Chip Kelly says 'weird' Eagles structure led to his dismissal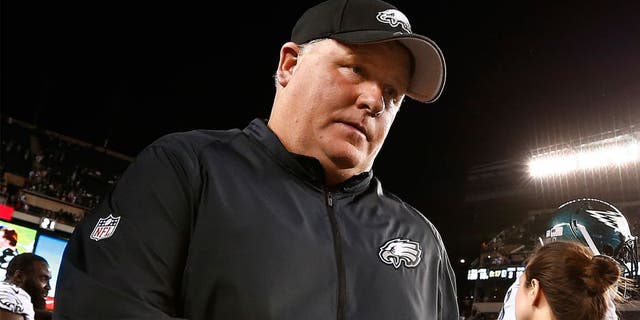 Former Eagles head coach Chip Kelly spoke out Wednesday about his dismissal from Philadelphia.
The 49ers head coach told the media at the NFC coaches' breakfast that his ouster was the result of a "weird" organizational structure -- that team owner Jeffrey Lurie established -- in which Kelly had final say of the roster, but then-Eagles GM Howie Roseman executed the contracts.
Kelly told reporters he didn't think he and Roseman were ever "on the same page" USA Today reported. The former Philadelphia head coach said he and Roseman hardly spoke, and former vice president of player personnel Ed Marynowitz was the middle man through which Kelly expressed which players he wanted to acquire.
"I didn't like the way it was, but I didn't ask for anything," Kelly said via USA Today. "It's [Lurie's] organization and it's his team. He can run it however he wants to run it. It wasn't like I was going to say: 'I'm walking out the door.'"
But Kelly said he never requested control over the roster, which was said to be a reason why he was fired last December.
Kelly did recount being thrown off by the timing of the dismissal, however -- a week before the end of his third season.
"Yeah, I was surprised," he said. "We had spent the whole day game planning and had been at practice. That was not something we saw coming."