Chip Ganassi Racing drivers continue to shine at Kansas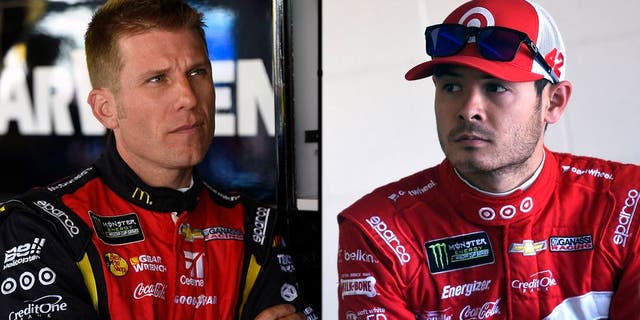 The most surprising statistic to come out of Saturday nights Go Bowling 400 at Kansas Speedway was that just one Chevrolet team finished in the top 12 in the race.
And that team saw both of its drivers finish in the top 10 at Kansas.
Not coincidentally, its also the only team that has both of its drivers in the top five in the Monster Energy NASCAR Cup Series driver points as we near the halfway point of the regular season.
The team in question is Chip Ganassi Racing, who saw Kyle Larson finish sixth at Kansas and Jamie McMurray eighth. With their respective finishes, Larson continues to lead the points, while McMurray is a solid fifth.
Larson rebounded from a wall-banger to earn his seventh top 10 in 11 points races, an impressive number so far.
The early parts of the race I thought we were okay, not great, but I thought we were like a fourth- or fifth- place car and I got into the wall on one of those later restarts after that big wreck, said Larson of the crash where Aric Almirola broke his back. I just got really tight and it took off and hit the wall.
After that, Larson was still able to hang on for a top 10.
My car was pretty tight afterwards, so Im sure some aerodynamic issues there, but still recovered for a decent finish there, he said. . It seemed like at the beginning of the race I could pass people no problem on restarts. There at the end my line just kept getting choked down and stuff, but sixth place is still a good day for our Target team.
Likewise, McMurray also earned his seventh top 10 of the year.
We had a really good night, said McMurray. We had a hard time in the pits tonight. Im not sure if something with the set-up of the car, but we struggled in the pits, but overall, we had a really fast McDonalds Chevy. Im really happy to finish eighth because we restarted like 20th or something with two or three (laps) to go. It was a good finish.
And if Larson and McMurray can continue to string together good finishes, they just might be factors in the championship this year.
Russell LaBounty | Russell LaBounty LAT Images www.latphoto.co.uk