Chinese striker produces epic fail from 2 yards out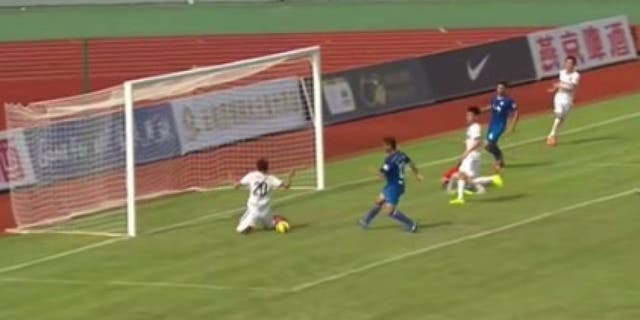 Mao Biao probably still can't believe it.
The Tianjin Teda striker managed to produce a surefire finalist for 'Miss of the Year' in a Chinese FA Cup 4th Round match against Guangzhou Haoxin.
It would have been such a fine team goal, too. The chest-trap and cut inside from Tianjin's left-winger? Textbook. The dummy that set up what should have been the easiest of assists? Class. But then it came down to the finish, instead of just simply tapping the ball into the empty net, Biao just kind of... sat on it?
Yep, he sure did. Now that's what you call missing 'a sitter.'
Even the referee was so dumbfounded that he just picked up the ball and called for halftime. That must have been a brutal walk back to the dressing room for Biao.
It's OK, bud. It happens. OK, a miss THAT bad probably never happens to about 99.9 percent of all strikers, but these things do still happen. Clearly.
Fortunately, Tianjin still went on to squash Guangzhou, 7-1, but their margin of victory absolutely should have been at least one goal wider.
MORE FROM FOX SOCCER: