Chiefs first-round pick Patrick Mahomes reportedly robbed at gunpoint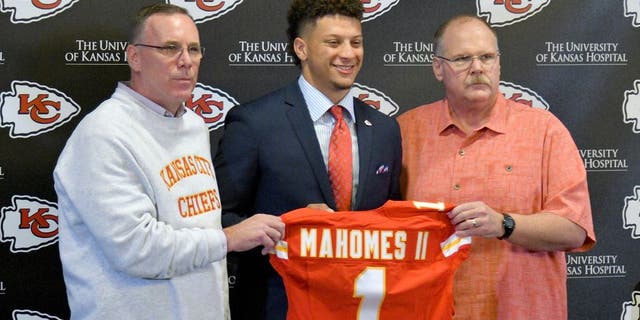 Patrick Mahomes, the Kansas City Chiefs first-round pick, was one of four peoplereportedly robbed at gunpoint Friday in Smith County, Texas.
According to CBS 19, two men were arrested on multiple charges, including aggravated robbery. The press release from the sheriffs office states that the victims were getting out of their vehicle at Mansion Creek Circle when another car pulled up behind them. A man allegedly approached them, gesturing as if he had a handgun in his waistband, and demanded property. No one reportedly was harmed.
The suspect reportedly fled the scene before police arrived, but deputies were able to track down the vehicle where Michael Blake Pinkerton, 34, and Billy Rae Johnson, 58, were found. They were arrested and taken into custody at the Smith County Jail, according to the press release.
Police say the property that was allegedly taken during the robbery was recovered from the suspects vehicle. Johnson and Pinkerton are being held on $6,000 and $50,000 bonds, respectively.