Chiefs' Aaron Murray actually benefitted from an early interception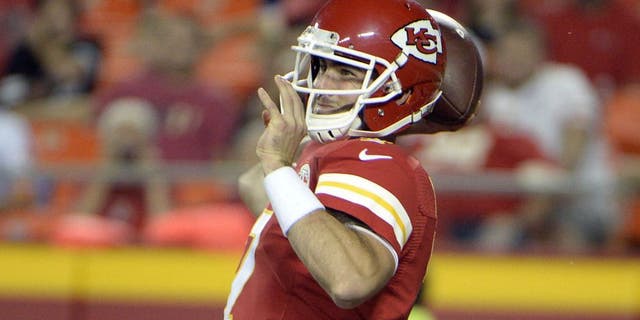 Aaron Murray knew he couldn't dwell on the mistake he'd just made.
So, he re-entered his huddle with a smile and some humor about the intercepted pass he sailed to Jeremy Maclin.
"I was like, 'Hey, I'm fine," Murray told ESPN's Adam Teicher. "I got it out of my system and I'm ready to rock and roll now.'"
Head coach Andy Reid hoped to see a little fight out of his third-stringer when he threw him in with the second team. He got it in spades after that interception; Murray bounced back from that questionable first throw led the backups down the field against the Titans.
Murray said he was nervous when Reid threw him in. Those nerves calmed, the shock from that interception subsided, and the Georgia product moved the second-teamers at will.
He added two touchdown throws for good measure -- including a pretty 29-yard toss to Fred Williams. Even starting quarterback Alex Smith was impressed.
"It's difficult (to do)," starting quarterback Alex Smith said of Murray's early pick. "You just dwell on it. You just have to go out there and play your way out of it."
Kansas City has struggled to find a steady backup when adversity strikes. They have one in Chase Daniel, but now they know Murray can be that guy, too.
"I've thrown some picks in my day," said Murray. "It's not like it's anything new."
(h/t ESPN)