Chicago Cubs look ahead to 1st World Series in 71 years after conquering Dodgers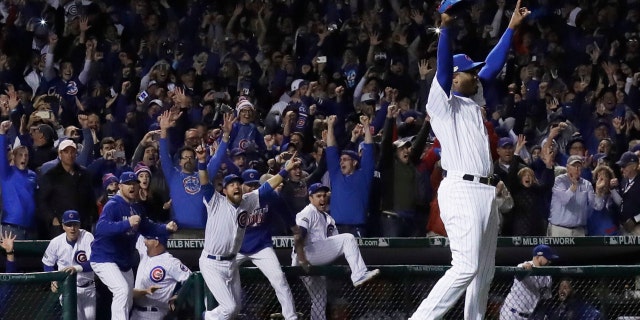 Leave it to Joe Maddon's wife, Jaye, to find a seemingly meaningful bit of symbolism.
"Did anyone notice," Jaye asked a group of reporters surrounding her husband, "that the game ended at military time, 19:45?"
CUBS WIN NL PENNANT, REACH FIRST WORLD SERIES SINCE 1945
Well, the actual time was 9:45 local, 21:45 military. But after 71 years, who's counting?
The clock might as well have stopped at the moment the Cubs completed their 5-0 victory over the Dodgers in Game 6 of the NLCS to reach the World Series for the first time since, yes, 1945.
MAGICAL SUMMER HAS CUBS FANS HOPING FOR CURSE REVERSE
The celebration at Wrigley Field was just starting. The noise was deafening. The fans were waving their white "W" flags all over the ancient park, as if time was standing still.
Everything seemed so perfect for the Cubs, it's difficult to imagine how it could get any better. But the bigger party is yet to come, provided the Cubs, seeking their first title since 1908, defeat the Indians, seeking their first since '48.
Drought I vs. Drought II. Tito vs. Theo. Andrew Miller vs. Aroldis Chapman.
Francisco Lindor vs. Javier Baez, both gifted young infielders from Puerto Rico.
Mike Napoli vs. Jon Lester, John Lackey and David Ross, all members of the 2013 World Series champion Red Sox.
The Indians are not to be dismissed, not after going 7-1 against the Red Sox and Blue Jays in the first two rounds, not with right-handers Danny Salazar and Trevor Bauer possibly returning to fortify their rotation.
Yet on Saturday night, more than a century's worth of agony in Chicago ended almost poetically. A foul pop landed near the infamous Bartman seat in the ninth inning. The game finished on a 6-4-3 double play, reducing to a footnote the one that the Cubs failed to turn in 2003.

"The thing I've always heard about the Cubs being lovable losers, I never quite understood that. That's not the way I was raised," said Maddon, who left the Rays for the Cubs prior to the 2015 season.

"Getting here and not paying attention to the superficial nonsense, the superstition that really has dragged a lot of people's minds down ... to escape that is great, to continue to move it forward. The perception has changed."