Chicago Cubs' Anthony Rizzo under fire for controversial slide into Pirates catcher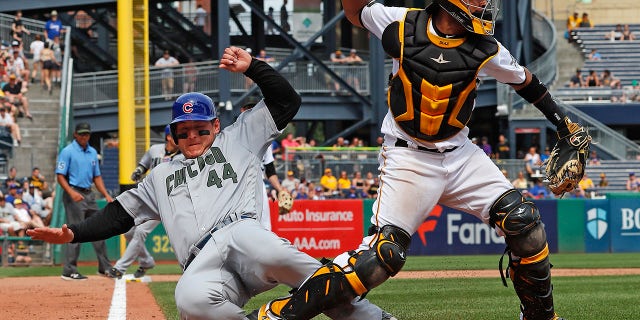 NEWYou can now listen to Fox News articles!
Chicago Cubs star Anthony Rizzo came under fire Monday after sliding into the back of Pittsburgh Pirates catcher Elias Diaz, trying to disrupt a double play.
With the Cubs up 3-0 in the eighth inning, Rizzo darted for home on a short grounder and was clearly out before he slid into the back of Diaz's legs. Diaz's throw sailed over the first baseman's head, allowing two more runs to score.
Diaz stayed in the game despite appearing injured and Pirates manager Clint Hurdle was ejected for arguing that Rizzo's slide was illegal.
"My position and my question is that at the end of the day, we've put a rule in at home plate to protect the catchers," Hurdle told reporters after the game, according to ESPN. "Everybody is going to see the play and say this is the play you can make on the catcher on his most vulnerable position. He's completely exposed. He's completely out in front of the plate. He has no defense whatsoever."
Diaz agreed with Hurdle, saying he didn't think it was a good slide by Rizzo.
"I understand that there's old-school baseball, but we're not in old-school baseball anymore. There are new rules and things we've submitted to, and even us as catchers have mentally prepared ourselves for, and I don't agree that that's a legal slide," he said through an interpreter.
Rizzo was booed when he came up to bat in the ninth inning. He said he was looking to break up the potential double play.
"You have to go in and break the double play up," the first baseman said. "I'm not trying to hurt anyone. Plays like that are scary, but at the same time, you have to play hard."
It's unclear whether Rizzo will receive any discipline for the slide, but he may have violated an MLB bylaw which states, "A runner may not run out of a direct line to the plate in order to initiate contact with the catcher," and clarifies "the umpire will consider such factors as whether the runner made an effort to touch the plate and whether he lowered his shoulder," according to MLB.com.
Rizzo was found to have violated this rule last year in a collision at home plate with San Diego Padres catcher Austin Hedges. Rizzo barreled into Hedges at home and knocked the catcher out of the game with a thigh bruise.
Rizzo wasn't suspended or fined for that play.