Chicago Cubs 2017 preview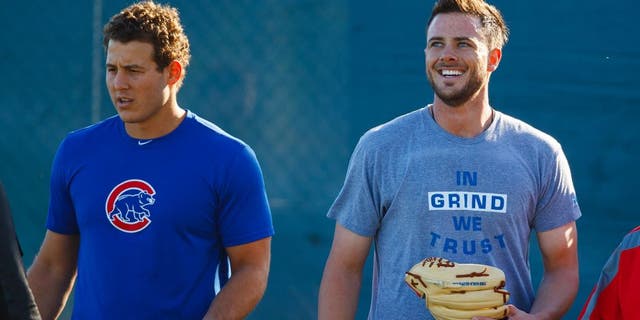 NEWYou can now listen to Fox News articles!
This is the latest of our 2017 team previews. Each week during spring training, we'll preview a division with a team each day (Monday-Friday). This week: The NL Central, starting with the Chicago Cubs.
LAST SEASON
103-58, first in NL Central (won World Series)
WHAT'S NEW
Key additions: RP Wade Davis (trade from Royals), CF Jon Jay (free agent from Padres), RP Koji Uehara (free agent from Red Sox), SP Brett Anderson (free agent from Dodgers), RP Brian Duensing (free agent from Orioles)
Key subtractions: OF Dexter Fowler (free agent to Cardinals), RP Aroldis Chapman (free agent to Yankees), SP Jason Hammel (free agent to Royals), OF Jorge Soler (traded to Royals), RP Travis Wood (free agent to Royals), RP Trevor Cahill (free agent to Padres), IF/OF Chris Coghlan (free agent to Phillies), C David Ross (retired)
3 STRIKES
1. The hunter becomes the hunted. Sure, the Cubs entered both the 2015 and 2016 seasons as World Series contenders, if not the outright favorites, but there's a different kind of pressure that comes with actually being the defending champs -- a feeling the Cubs haven't experienced in more than a century. With the honeymoon over, Chicago must focus its attention on becoming the first team to win consecutive World Series since the Yankees won three straight between 1998-2000. And with a team this stacked, anything less will be a failure. Considering how narrowly the Cubs won last year, a repeat is far from a guarantee, however, and the club's success in 2017 may come down to how good Chicago is at ignoring the target on its back.
2. Sorting out the outfield. There are worse problems to have than having too many good players, but it's a problem, nonetheless, for Cubs manager Joe Maddon, who has at least a half-dozen capable outfielders on his 40-man roster and only three spots in which to play them. The biggest hole to fill is obviously the one left by Fowler in center, and while Jason Heyward could move over from his post in right, the more likely solution will be a platoon between Albert Almora and the recent free-agent acquisition, Jay. That leaves Kyle Schwarber and Matt Szczur to fight for time in left field, while Jacob Hannemann will almost certainly spend 2017 in the minors, where he's stolen 91 bases in 343 games over the past four seasons. Ultimately, Schwarber's bat will prove too valuable to leave out of the lineup, so he likely gets the nod in left, but still, Maddon will need to find opportunities for Szczur -- and we haven't even gotten to third baseman (and reigning NL MVP) Kris Bryant and All-Star utility man Ben Zobrist, who started 113 and 29 games at second base and in the outfield last year, respectively. It's inevitable that injuries (or perhaps a trade) will eventually help settle the pecking order, but even so, it's a lot for Maddon to juggle.
3. How good will the 'pen be? Chicago was able to cobble together a pretty respectable bullpen last season, and while the unit saw several departures during the winter, it has the potential to be even more productive this year than it was in 2016. Gone is the hard-throwing Chapman, as well as Cahill and Wood, the top two innings-eaters out of the 'pen last season. But all three have been replaced by an arm that's as good, if not better. Davis -- he of a 1.18 ERA and 234 strikeouts in 182 2/3 innings for Kansas City over the past three years -- should have no problem picking up where Chapman left off. And though Uehara is getting up there in age (he'll be 42 in April), he's never been the type to blow hitters away, can pitch in multiple different roles and if nothing else, will give Chicago a specialist to combat left-handed hitters. Add to the mix the holdovers -- a group that includes Hector Rondon, Pedro Strop and Carl Edwards Jr., among others -- as well as Duensing and the loser of the Anderson-Mike Montgomery battle for the fifth starting spot (at least until Maddon goes to a six-man rotation), and the Cubs' bullpen should be one of the league's best.
BEST-CASE SCENARIO
Chicago's top four starters have another stellar year, the young bats in the lineup keep raking and a lockdown bullpen delivers the Cubs their second championship in the past 109 years.
WORST-CASE SCENARIO
John Lackey looks like a 38-year-old, Kyle Hendricks has a major regression after a breakout season, Jake Arrieta starts pitching like Orioles-era Jake Arrieta with his next contract at stake, Bryant and Anthony Rizzo take a step back at the plate, Willson Contreras can't hack it as the team's full-time catcher and the Cubs return to their old form.
SURPRISING STAT
In Montgomery, Davis and Uehara, the Cubs' bullpen features three of the last four pitchers to record the final out of the World Series. (Sorry, guys, you can't have Madison Bumgarner, too.)
BEST BETS
Projected win total (via Atlantis Casino Resort): 95.5
World Series odds (via VegasInsider.com): 15/4
TOP FIVE FANTASY PLAYERS
1. Kris Bryant, 3B/OF: He is a top five pick after he blasted 39 homers, scored 121 runs, drove in 102, and posted a .385 on base percentage last season.
2. Anthony Rizzo, 1B: Rizzo is a top 15 pick. Here are his 3-year fantasy-relevant splits: .386 OBP, 32 homers, 92 runs, 96 RBI, 8 steals
3. Jon Lester, SP: A top 10 fantasy baseball starting pitcher, Lester actually improved as the season played out last year. He posted a 1.76 ERA, and opposing hitters only managed a .192 batting average after the All-Star break.
4. Jake Arrieta, SP: He owns a 50-19 record and strikes out about nine batters per nine innings over the past three seasons with the Cubs. Opposing hitters haven't cracked a batting average above .200 during that stretch -- second-best in MLB (Kershaw).
5. Kyle Schwarber, OF: With Dexter Fowler now with the Cardinals, Schwarber is slated to lead off for the Cubs this season. Don't get it twisted, he isn't fast and won't steal bases, but has 30 homers in his sights after missing most of 2016 recovering from knee surgery.
(Courtesy of FOX Sports Fantasy Baseball)
PREDICTION
Chicago goes 162-0, then gets swept in the NLDS. (Or: Another 100-win season and a second consecutive World Series title.)