Chicago Bears preview (No. 30): Can Fox fix an aging roster?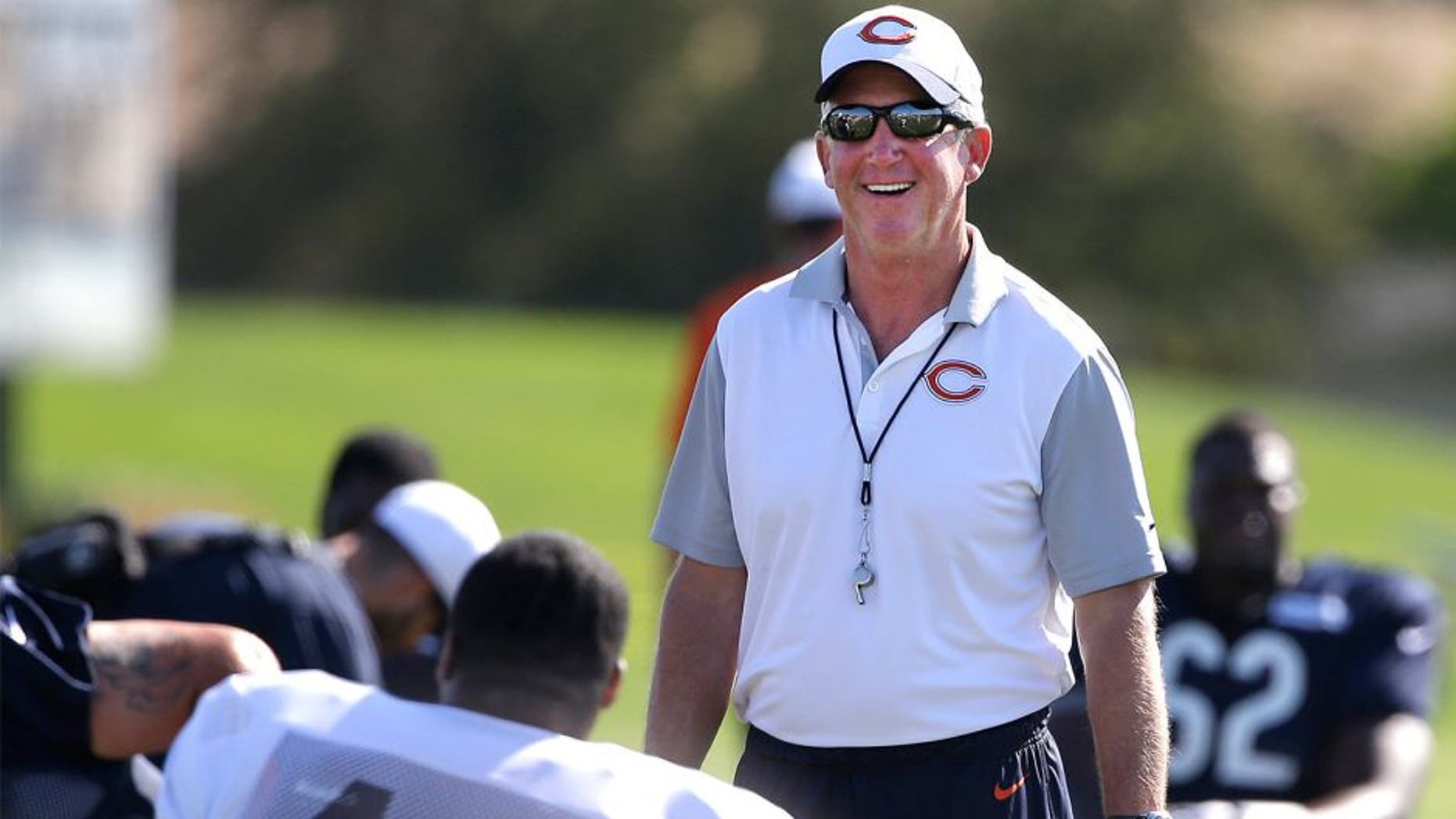 Our 2015 NFL preview series ranks every team, from worst to first. Today: the No. 30 Bears.
2014 record: 5-11
Head coach: John Fox (first year, 119-89 overall coaching record, 8-7 playoffs)
Key arrivals: Eddie Royal (wide receiver), Pernell McPhee (linebacker), Antrel Rolle (safety), Mason Foster (linebacker), Jarvis Jenkins (defensive end), Alan Ball (cornerback), Will Montgomery (center), *Kevin White (wide receiver), *Eddie Goldman (defensive tackle)
(*denotes rookie)
Key departures: Brandon Marshall (wide receiver), Roberto Garza (center), Stephen Paea (defensive tackle), Chris Conte (safety)
2015 schedule (ET)
Sept. 13: Green Bay, 1 p.m.
Sept. 20: Arizona, 1 p.m.
Sept. 27: at Seattle, 4:25 p.m.
Oct. 4: Oakland, 1 p.m.
Oct. 11: at Kansas City, 1 p.m.
Oct. 18: at Detroit, 1 p.m.
Nov. 1: Minnesota, 1 p.m.
Nov. 9: at San Diego, 8:30 p.m.
Nov. 15: at St. Louis, 1 p.m.
Nov. 22: Denver, 1 p.m.
Nov. 26: at Green Bay, 8:30 p.m.
Dec. 6: San Francisco, 1 p.m.
Dec. 13: Washington, 1 p.m.
Dec. 20: at Minnesota, 1 p.m.
Dec. 27: at Tampa Bay, 1 p.m.
Jan. 3: Detroit, 1 p.m.
TRAINING CAMP QUESTION: How quickly can the rookies begin making an impact?
The Bears have 14 players over age 30 on their roster after opening last season with an NFL-high 16. The effort to get younger under first-year general manager Ryan Pace begins with the six-man 2015 draft class. Wide receiver Kevin White has the best chance to start, but the No. 7 overall selection must make the transition from playing in a no-huddle spread system at West Virginia to coordinator Adam Gase's pro-style offense. Plus, he's battling shin problems. Running back Jeremy Langford, a fourth-round pick out of Michigan State, also could be poised for significant snaps as Matt Forte's backup.
IF EVERYTHING GOES RIGHT
The Bears entered last season seemingly loaded at the skill positions and ready to contend for a division title, but there was one big problem: Quarterback Jay Cutler crashed a year after the team made him the NFL's highest-paid player and found himself on the bench by the end of the season. Until Chicago finds a suitable replacement, anything going right starts with Cutler -- against all odds -- righting himself under a new coach and offensive system. Maybe being down to his last chance will spark a change.
IF EVERYTHING GOES WRONG
This season will look a lot like the last one -- only with a quicker hook for the quarterback -- if Cutler can't reignite his competitive fire. And even if he can, the Bears' problems run a lot deeper. Coach John Fox has proven to be a great team builder at previous stops in Carolina and Denver, but fixing the league's 31st-ranked defense in points allowed won't happen overnight. Fox inherited a broken team that might find out last year's 5-11 record is not its bottom.
BREAKOUT PLAYER: Outside linebacker Pernell McPhee
With a modest career-high of 7.5 sacks last year for Baltimore, McPhee wasn't signed to a five-year, $39 million contract this offseason based upon past performance. The Bears believe McPhee has plenty of upside left after serving as a backup last season to the outstanding outside linebacker tandem of Terrell Suggs and Elvis Dumervil.
CIRCLE THE DATE GAME: Week 12, at Green Bay (8:30 p.m. ET/Nov. 26)

The Packers will be retiring the jersey of Brett Favre, who quarterbacked Green Bay to a 23-13 record against the Bears during his NFL career. Chicago will be trying its best to spoil the fun on what will be a raucous Thanksgiving Night atmosphere at Lambeau Field.
ALEX MARVEZ'S PREDICTION: 5-11, fourth place
At his previous head coaching stints with Carolina and Denver, Fox developed a reputation for being adept at staging quick turnarounds. He has his work cut out for him again in Chicago, which lost its final five games last season en route to a 5-11 record that got head coach Marc Trestman and general manager Phil Emery fired. The problems start at quarterback, where Cutler has experienced a gradual slide from leading the 2010 Bears into the NFC Championship Game to getting benched for one game late last season following ineffective play. Compounding the quarterbacking problem was Cutler's contract, which would have resulted in a salary-cap charge of at least $16 million if he were released this offseason. Rather than take that massive hit, Pace decided to try to reinvent Cutler under Gase, who is coming off two seasons working with Peyton Manning in Denver. On the bright side, the Bears have some offensive talent for Cutler and Gase to work with. Forte notched his fifth career 1,000-yard rushing performance in 2014 and set an NFL single-season record for running backs with 102 catches. Alshon Jeffrey is poised to become Cutler's No. 1 wide receiver after the Bears traded Brandon Marshall to the New York Jets. White and free-agent pickup Eddie Royal add some punch to the passing game as well. The defense is undergoing an even bigger transformation than the offense with new coordinator Vic Fangio shifting Chicago from a 4-3 to 3-4 scheme. The Bears spent big money on McPhee in hopes he can build upon a 7.5-sack season as a Ravens backup. Jared Allen is the frontrunner for the other OLB spot but must show he can make the transition after playing defensive end throughout his NFL career. The best-case scenario for Pace is the Bears getting one good season out of their graybeards and stop-gap free-agent signings before the roster rebuilding begins again in 2016. That's a lot to ask in a strong division.