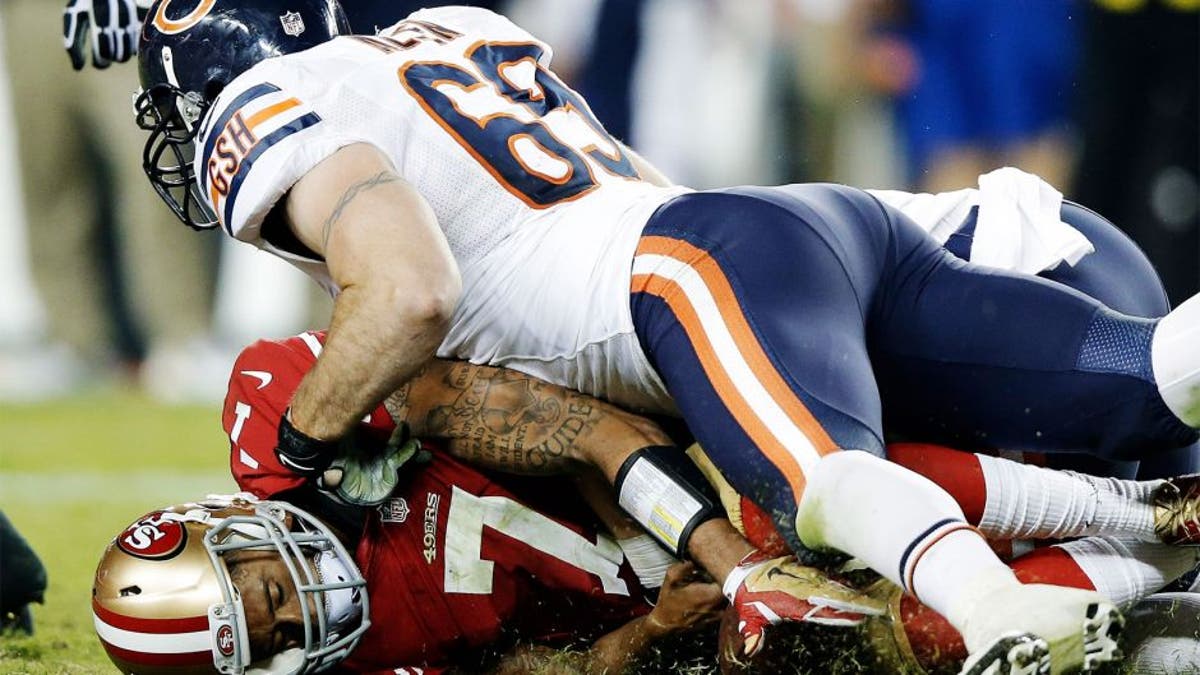 If anyone is pumped for the 2015 season to get underway, it's Chicago Bears outside linebacker Jared Allen. Last year was disappointing for the active sack leader, so he's ready to take out his pent up frustration on the field.
"I'm ready to go out and bust someone's head open, honestly," Allen said, via ESPN's Jeff Dickerson.
Allen, who has 134.0 sacks through 11 seasons, registered a career-low 5.5 sacks last year -- his first with the Bears. He described his transition from Minnesota to Chicago as "miserable," per ESPN. His team only won five games and finished last in the NFC North.
This year, Allen's trying a different type of transition as he switches positions from 4-3 defensive end to 3-4 outside linebacker in Chicago's new scheme, devised by defensive coordinator Vic Fangio.
"Three years ago, if you had tried to make me switch my position, I would've quit," Allen told ESPN. "Honestly, because I was a knucklehead and I would've been like 'No, I'm a right end and I'm going to go up against the left tackle. This is where I'm going to be, that's where he's going to be, I'm the best, you're the best, let's see what happens and play ball.' But coming off a year where I dealt with injuries and being sick and my production numbers were down, it kind of clears your mind. This game will humble you. However it does it, it will humble you. I got a nice little slice of humble pie last year. You look at a new opportunity as just that, a new opportunity. That's the way I'm approaching it. I don't feel anything is owed to me. I'm coming out here to prove that I've still got what it takes to be the best at what I do."
Allen, 33, is in the twilight of a career that may, one day, be worthy of the Hall of Fame. His adjustment to a new role in his second season with the Bears could be the factor which ultimately makes or breaks that possibility.
(h/t ESPN)