Chicago Bears HC John Fox: TE Martellus Bennett has 'all the physical tools'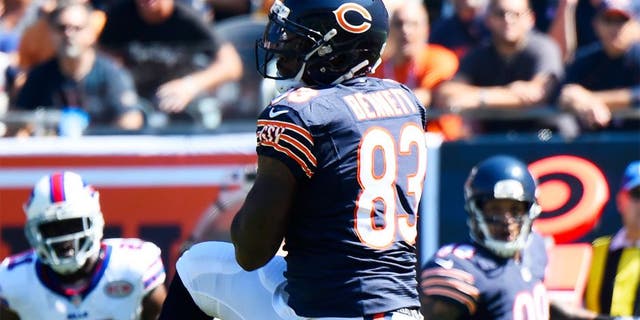 Of all the questions facing the Chicago Bears this summer, the talent of their starting tight end is not one of them. Last season, Martellus Bennett established himself as one of the NFL's best with 90 catches for 916 yards and six touchdowns.
Bears head coach John Fox recently praised Bennett as a complete tight end.
"This game's about matchups," Fox told Dan Wiederer of the Chicago Tribune. "The tougher matchups you can create for the opponent's defense, the better. He has all the physical tools it takes both as a blocker and as a pass catcher. Those are both important skill sets for that position. He proved what he's capable of a year ago. And hopefully we can duplicate that and then some this year."
Since Bennett is such a unique weapon on offense, he expects to be paid accordingly. The tight end did not report to voluntary organized team activities earlier this offseason -- although he was in attendance for mandatory minicamp -- as a way to display his discontent.
"If your performance is at a high level and you're performing to a high level, then you want to be compensated for the level that you're playing at," Bennett said, via the Tribune.
Bennett is halfway through a four-year deal he signed in 2013, and he's slated to make about $10 million over the next two seasons. Even though Fox is already impressed with the tight end he inherited, the Bears are unlikely to take a look at Bennett's contract until he logs some snaps under the new regime.
(h/t Chicago Tribune)