Chicago Bears can still make playoffs, but they'll need a win over Lions plus some help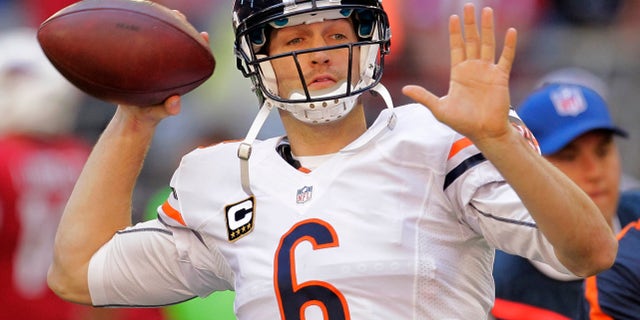 DETROIT – When the Chicago Bears reached the midway point with a 7-1 record, the rest of the regular season seemed like a formality.
One way or another, the Bears would be in the playoffs. It was simply a matter of who they'd be facing.
Less than two months later, Chicago's position is suddenly a lot more precarious.
"We know what's at stake for all of us," coach Lovie Smith said. "We still have a chance to achieve our goal, and the only way that can happen is if we take care of business this week."
After five defeats in seven games, the Bears need a victory and a Minnesota loss on Sunday just to salvage a wild card. They came through last weekend, beating Arizona, and now they need another win at Ford Field against a Detroit team that's lost seven in a row.
If that happens, and the Vikings lose to Green Bay later in the day, Chicago (9-6) can exhale and look ahead to the postseason. Otherwise, the Bears will face some unpleasant questions about how such a promising start went to waste.
"We put ourselves in this position so we can't do anything but wait. But first and foremost we've got to beat Detroit," quarterback Jay Cutler said. "It's not going to be an easy task for us. They played us tough the first time and we're going to get their best shot."
Chicago beat Detroit 13-7 in late October, before both teams went into a tailspin. The Lions (4-11) made the playoffs a season ago but have been a mess this season. Calvin Johnson has set a single-season record for yards receiving, but his brilliance hasn't been nearly enough to overcome occasional shakiness from quarterback Matthew Stafford and the lack of a consistent running game.
Ndamukong Suh remains a presence on the defensive line, but the defense has wilted late in games. So now all that's left is one more test and a chance to ruin the hopes of a division rival.
"I don't necessarily play to spoil people's chances for anything that they have. It's more you play for yourself and your team," Suh said. "There's a lot of things that for me, other than being a spoiler, that we can play for."
There's not a lot of love lost between these teams. Bears defensive tackle Henry Melton flatly called the Lions "a dirty team" and said he expects cheap shots this weekend.
If facing the Lions isn't enough, Chicago is also in the odd position of needing to root for the hated Packers against Minnesota.
"I think all Bears fans will be somehow hoping that they lose but we get in, but that's not the case. We've got to root for them, at least one game this year," Cutler said.
It won't matter if Chicago falters against Detroit. The Lions would love to snap their ugly losing streak and provide at least some reminder of why they looked like one of the NFC's rising powers just a few months ago. Their nucleus of Stafford, Johnson and Suh hasn't been enough this season, and they're one defeat from finishing winless within the NFC North.
"That's another streak that could be talked about next year," center Dominic Raiola said. "So we have a lot to play for. There's a lot of people that have a lot to play for still in this locker room."
Detroit's record might look a lot better if the Lions had been able to avoid big mistakes — they've allowed a league-high 10 touchdowns on interception, fumble, punt and kickoff returns.
Chicago, on the other hand, has returned a remarkable eight interceptions for scores.
"I think if you look each week you try to determine what's a common thread on winning and losing football games and you can look to the turnover ratio," Smith said. "It's as simple as that. It's been like that since the beginning of time. So naturally we would put a big premium on taking the ball away on the defensive side. That's a part of our fiber, our core. It's not a good defensive game unless we can take the ball away."
The Bears forced four turnovers against the Lions on Oct. 22 and held Johnson to three catches for 34 yards. After another pedestrian showing the following the following weekend against Seattle, Johnson began a streak of eight straight games with at least 100 yards receiving, a run that's still going.
Chicago, meanwhile, began to slip, but it's worth pointing out that during this downturn, the Bears have lost to Houston, San Francisco, Seattle, Minnesota and Green Bay. Those are all teams that will be in the playoffs or, in Minnesota's case, is still in contention for them.
Chicago still has hope too.
"You want to be relevant this time of the year, and this is a big game for us, of course," Smith said. "There's a lot at stake. As head coach, you want the guys to play their best game. This is the time, really, you say, 'When do you peak?' Right now."
___
Online: http://pro32.ap.org/poll and http://twitter.com/AP_NFL