Chelsea's N'Golo Kante picks up another award, named Football Writers' Association Footballer of the Year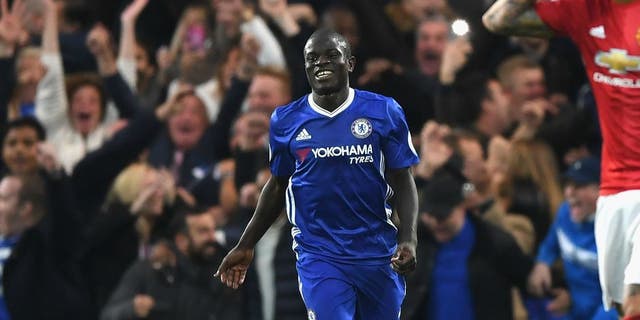 N'Golo Kante has been voted Footballer of the Year by the Football Writers' Association, just shading hisChelsea teammate Eden Hazard in the voting.
Just like the voting for last month's Professional Footballers' Association Player of the Year award, Kante and Hazard trotted intofirst and second, taking a combined 65 percent of the votes. Tottenham's Dele Alli, the reigning PFA Young Player of the Year, finished third, some distance behind the two Chelsea men.
A record 17 different players received votes, with five players from Chelsea receiving recognition in Kante, Hazard, David Luiz, Diego Costa and Cesar Azpilicueta.
Upon receiving the award, Kante said: "It is a fantastic honor to win this award. With so many great players in this Chelsea squad and in the Premier League, for the Football Writers' Association to name me their Footballer of the Year is a very proud moment in my career."
FWA Chairman Patrick Barclay added: N'Golo Kante could not be a more deserving winner of English football's most prestigious individual award.
In the view of some FWA members, he would have been a worthy recipient last season for his contribution to Leicester's title success, but the almost unbroken excellent form of Chelsea since he changed clubs has left little room for further debate.
Considering the competition of Eden Hazard and other players from Chelsea in particular, this is a great achievement.
In 69 years, Kante is justthe fourth Chelsea player to be voted FWA Footballer of the Year, alongsideGianfranco Zola in 1997, Frank Lampard in 2005 and Hazard in 2015. Kante is the last Frenchman to win the award since Arsenal's legendary striker Thierry Henry won it back in 2006.