Cheerleaders for NFL, NBA, NHL teams reveal sexual harassment, 'handsy' fans come with the job
Dozens of cheerleaders for NBA, NHL and NFL teams say experiencing endless sexual harassment and unwanted touching by "handsy" fans are a typical part of the job -- with one former NFL cheerer going so far as to compare the gig to being an escort.
The numerous professional cheerleaders interviewed by The New York Times all described the job in a similar fashion: eye candy.
"When you have on a push-up bra and a fringed skirt, it can sometimes, unfortunately, feel like it comes with the territory," Labriah Lee Holt, a former cheerleader for the Tennessee Titans, told The New York Times. "I never experienced anything where someone on the professional staff or the team said something or made me feel that way. But you definitely experience that when you encounter people who have been drinking beer."
The cheerleaders said team officials were aware of the unwanted remarks and touching but did little to prevent it. Holt recalled that during times cheerleaders were sent to engage with tailgating fans, the women traveled in groups for safety.
NFL CHEERLEADERS SUBJECT TO STRICT RULES ON WEIGHT, SHAVING AND SWEATPANTS, REPORT SAYS
"There wasn't any protection from it," she said. "You have to run around the tailgates, go to the tents, mingle with fans and shake the pompoms. And you sometimes get the disgusting old men who have been drinking and will say something inappropriate. It is common, and the industry knows that."
A former Dallas Cowboys cheerleader, who asked not to be identified because she signed a non-disclosure agreement, told The Times about one instance when a Philadelphia Eagles fan told her he hoped she was raped.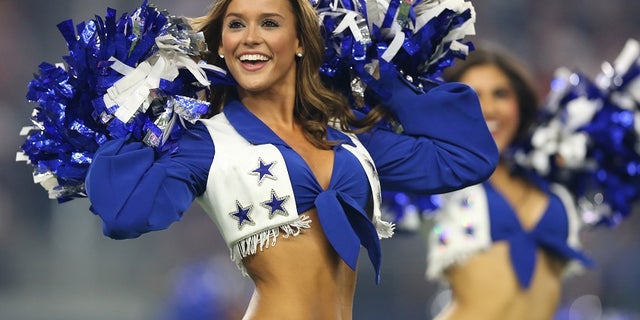 "We were walking by, waving and smiling, and one guy caught my eye," the cheerleader said. "He looked at me and said, 'I hope you get raped!' That's the kind of stuff we'd have yelled at us. Even from our fans, once they get drunk, they yell things, and you're like, 'Really?' It's part of the job. It comes with it. You're supposed to take it."
The former Cowboys cheerleader said she was told by the team not to retaliate if a fan said something inappropriate or touched them without consent.
"We were taught, if someone's getting handsy on you, how to navigate that," the former cheerleader said. "We were told what to say, like, 'That's not very nice,' To be sweet, not rude. Say, 'Can I ask you to step over here?' Use body language to help deter the situation. Never be mean. Never. Always courteous. Because if it's not for the fans, we wouldn't be here — that's how we were supposed to think of this."
Several cheerleaders told The Times that, besides showing up to games, they also were required to make appearances at tailgate parties, luxury suites and specific bars.
"You knew the alcohol was flowing and that they would be handsy," the former Cowboys cheerleader said. "Arms around the waist, kisses on the cheek. You knew they would, and you couldn't say anything."
She said if they objected than they were dropped from the team.
MARK MCGWIRE SAYS HE 'DEFINITELY' COULD HAVE HIT 70 HOME RUNS WITHOUT PEDS: REPORT
The Dallas Cowboys declined to comment on the allegations.
A former Washington Redskins cheerleader said she along with five other teammates were once told to go to a house where seven middle-aged men were watching NFL games. The woman said the men sized them up and asked if they were single or married. The men offered the women drinks but they declined. During the strange meeting, she recalled dancing for the men and walking around the home talking to the guys.
"It was sketchy because we were in some dude's house, some random house, and it was physically uncomfortable to be there," the cheerleader said.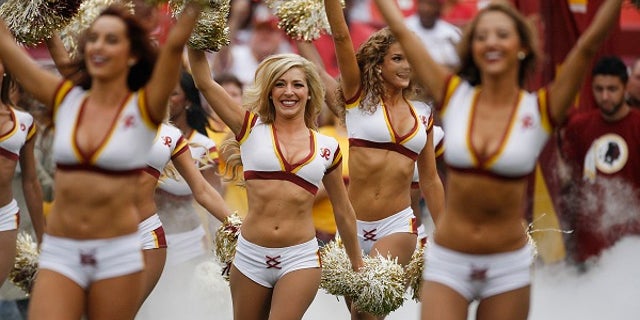 The woman said she felt it was unfair teams were making money off their appearances yet the cheerleaders were paid barely above minimum wage. She said the team was paid $1,200 a cheerleader while she received only $100 to show up.
"It's literally like you're calling for an escort," she said.
"It's not like somebody grabbed my boobs, and nobody told me, 'Have sex with me right now.' It's a lot more nuanced," the former cheerleader said. "It's like every other abuse dynamic. You don't feel like you have the liberty to say, 'I'd prefer not to do this.' In turn, you're treated poorly and are paid hardly anything and are ragged on in rehearsal for not wearing the right lipstick. The whole thing is so messed up."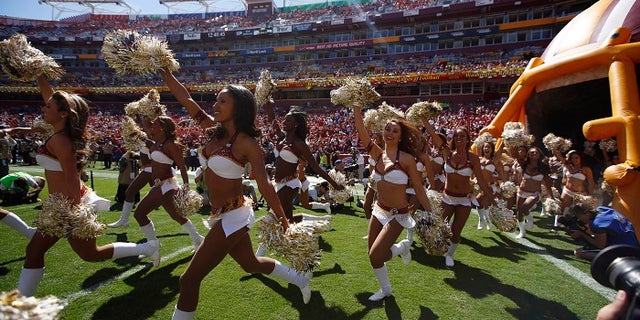 The Redskins told The New York Times in a statement: "The safety and security of all of our employees, including our cheerleaders, is now and has always been a top priority for our organization. We are unaware of any reports of any promotional appearances that made Redskins cheerleaders uncomfortable. We take such reports very seriously and will continue to take all steps necessary to ensure the safety and security of our cheerleaders."
Bailey Davis, a former cheerleader for the New Orleans Saints who said she was fired days after posting a picture on social media of herself in a one-piece bathing suit in January said she was told to deal with drunk fans even if they touched her without her consent.
"They tell us that we're celebrities and to present ourselves well, but then they throw us out there with these drunk fans," she said. "You have to take pictures with anyone who asks. You can't refuse a picture with anyone. If there's a sloppy drunk who you know just wants to put his hands on you, you just have to deal with it and do it."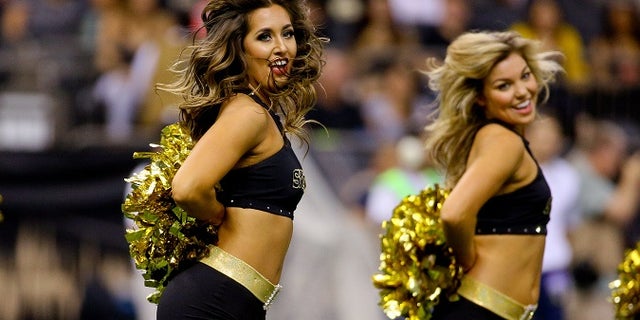 Davis said she got used to the nasty remarks and touching. Following her termination, Davis filed a complaint with the Equal Employment Opportunity Commission claiming the Saints hold cheerleaders and players to separate standards.
The Saints responded to Davis' claims saying the organization "does not tolerate harassment at any kind."
"At no time during the 8 months that Ms. Davis worked for the Saints did she ever report that she believed she had been harassed by anyone," the team said.
A few Cleveland Cavaliers cheerleaders said they were also subjected to groping and lewd comments.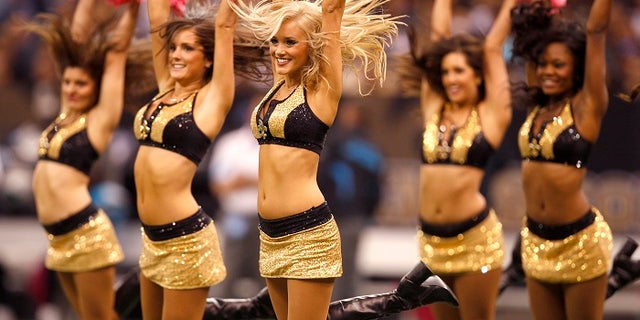 "I remember getting my butt grabbed by a 12-year-old who should've been kicked out of the game," a Cavaliers cheerleader who asked to remain anonymous said. "For whatever reason, fans think they own you."
"I was 19 and was just a baby," she continued. "If I had more world experience, there's no way I would've put up with all that. Now that I'm working in a professional environment, I realize that the way we were treated there was absolutely illegal."
The Cavaliers said in a statement that they took the allegations seriously.
"All of our game entertainment team members should be able to perform and engage with our fans without enduring harassment of any kind or inappropriate interaction or contact," the team said.
Lacy Thibodeaux, a former Oakland Raiders cheerleader, said she was advised about holding her pompoms in a position to prevent fans from touching her butt or waist during photo ops.
"If someone got too handsy, we could just turn around and leave," Thibodeaux said. "But we still had to be gracious and say, 'Thank you very much.'"