Chasing history: Jeff Gordon hopes to run down sixth Indianapolis win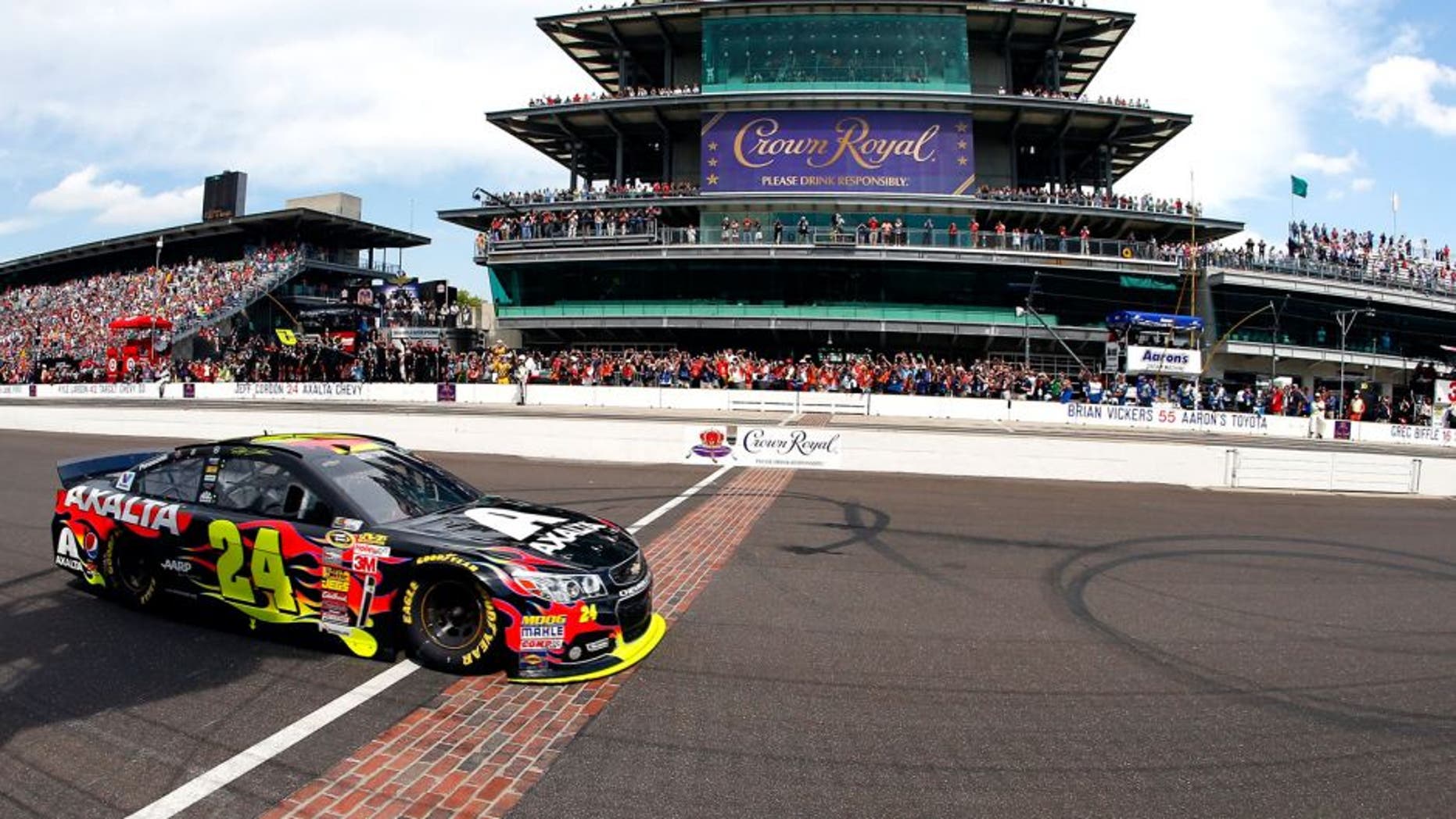 Jeff Gordon's final season in the NASCAR Sprint Cup Series hasn't gone exactly the way he hoped, although that could all change on Sunday at Indianapolis Motor Speedway, where Gordon will seek to become the first driver in history to win six times at the historic track.
Gordon and former Formula One champion Michael Schumacher each have five victories at the Brickyard, while A.J. Foyt, Rick Mears and Al Unser have each won the Indy 500 three times.
So far, Gordon's last NASCAR Sprint Cup Series has been uneven, as the Hendrick Motorsports driver is winless through 19 races. On the other hand, it hasn't been an unmitigated disaster, either. Gordon enters the Crown Royal Presents the Jeff Kyle 400 at the Brickyard 10th in points, and barring some unforeseen circumstances should qualify for the Chase for the NASCAR Sprint Cup, whether he wins a race or not over the final seven races of the Sprint Cup regular season.
Regardless, a return to the most historic track in motorsports will surely be an emotional moment for Gordon, and one in which he and his Hendrick Motorsports team will go all out to win.
In 1994, Gordon won the inaugural Brickyard 400, and he won here last year, too. To this day, he counts those two races as his favorites among the 92 victories he's earned in his career.
"The inaugural Brickyard 400 -- it changed my life," Gordon told FOXSports.com in an exclusive interview earlier this year. "I wanted to race at Indianapolis as a kid and didn't get to do that in the Indy 500 and then got to do that in the inaugural Brickyard 400. Just racing in that event meant a lot to me. To go win it meant more than I could ever imagine."
The 2014 Brickyard victory was also huge, because Gordon's family -- wife Ingrid, daughter Ella and son Leo -- were there to share it with him.
"Of course, last year doing it with the kids there, getting to kiss the bricks with Ingrid, Ella and Leo probably stacks right up there with it. Indy is just a special place to me, and I think it has to do with the open-wheel background that I have," Gordon said
Earlier this year, Gordon got to live out a fantasy, as he drove the Corvette Z06 pace car to start the Indianapolis 500.
"I don't think anything was going to let down my expectations," Gordon said, who visited with childhood hero Rick Mears before the race. "I expected it to be a cool experience and it was that and even more. To be standing out there on pit road on the day of the Indy 500 -- there was so much going on it was a blur, going by very fast. You want that moment to slow down, and take it all in."
Everything went flawlessly, and Gordon said it was a memorable experience.
"The first time I came by, to hear the fans cheering -- I had the windows down -- you could hear the fans," he said. "I know they weren't cheering me -- they were cheering the field -- but just to be able to feel that, experience that and see all those fans there, that was cool."
VIDEO: A look back at Jeff Gordon's 2014 win at the Brickyard