Chase trio devouring competition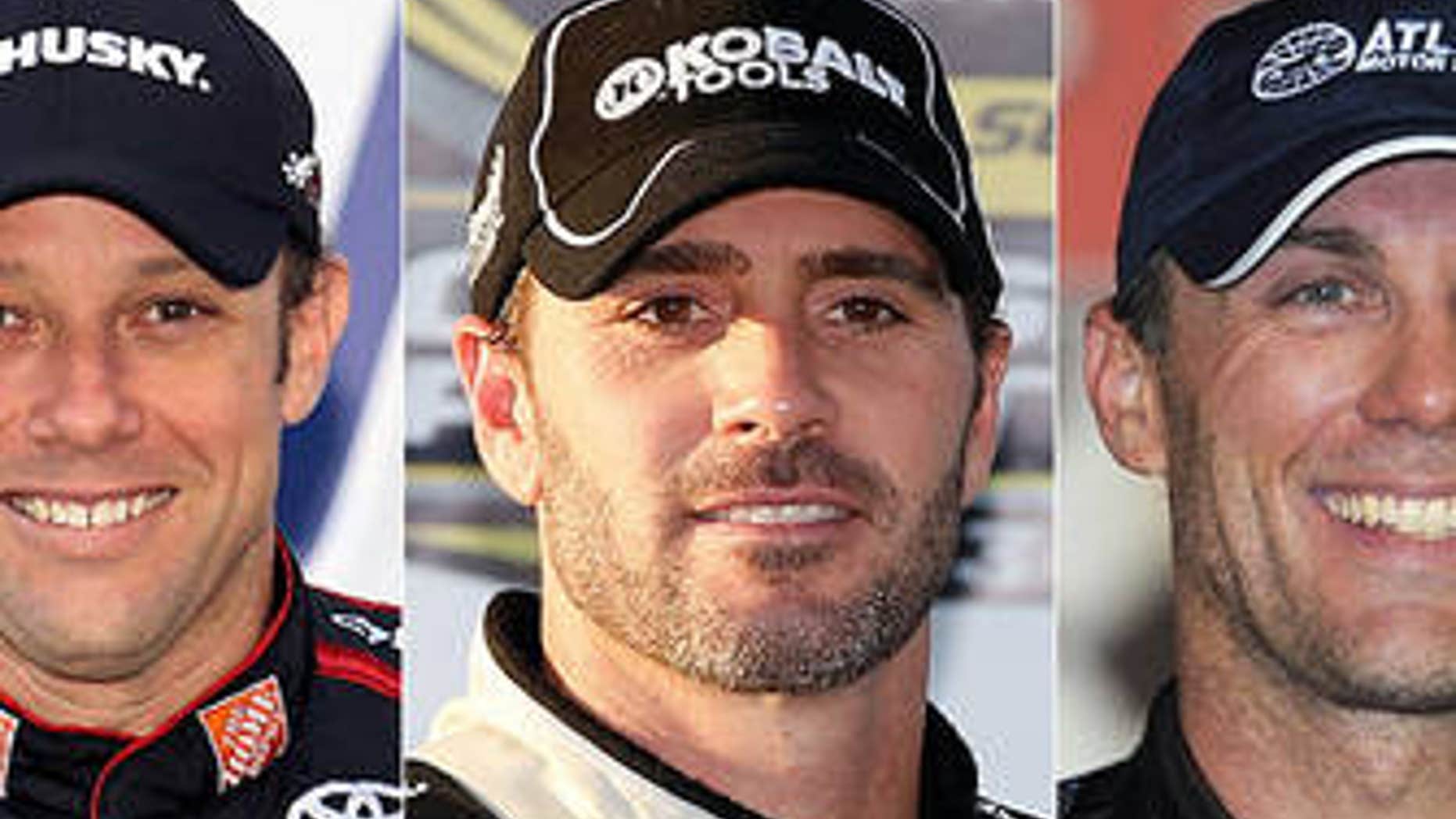 It's time for the big dogs to hunt.
Or maybe keep hunting, because so far, they've done a pretty good job devouring the competition in the Chase for the Sprint Cup.
Over the course of the long NASCAR Sprint Cup season, Matt Kenseth, Jimmie Johnson and Kevin Harvick have combined to win 15 of 30 races to date. They are also the only drivers to win so far in the Chase, with Kenseth scoring victories at Chicagoland Speedway and New Hampshire Motor Speedway, Johnson at Dover International Speedway and Harvick last Sunday at Kansas Speedway.
Not surprisingly, Kenseth, Johnson and Harvick are the three drivers atop the points standings right now.
And when the checkered flag falls in Saturday night's Bank of America 500, there's a pretty good chance that one of them will be back in Victory Lane at Charlotte Motor Speedway. In addition to the gaudy stats posted this season, collectively, the three have 10 points race victories at the 1.5-mile track, as well as six wins in the NASCAR Sprint All-Star Race.
That said, things did not get off on exactly an even keel at Charlotte, thanks to a bizarre qualifying draw for the Bank of America 500. Kenseth was the first to go out, with the final three being Johnson, Harvick and Jeff Gordon, who's fourth in points. Generally speaking, the later you go out, the cooler the temperatures, the faster the lap times.
And that's how it played out, with Gordon, the final driver to qualify, claiming the pole. Harvick was second, Johnson fourth and Kenseth back in 20th.
Asked if was happy where he's at so far in the Chase, Kenseth was somewhat noncommittal.
"You always want to do better," said Kenseth. "I was pleased with the first two weeks, obviously. Dover, our performance was pretty good, but we slipped a little bit then. At Kansas we were kind of off. To have a legitimate shot at winning this thing, you've got to run in the top three or five every week. You've got to at least be in that group, so hopefully we can get a good finish Saturday night."
Johnson, the five-time champion, said he is confident with his place right now, trailing Kenseth by just three points.
"It's never easy. I do feel very good about our chances," said Johnson. "Post-Talladega, depending on how things play out there, we'll see where we stand. But the only thing I can do right now is look back on the races we've had and think what points we've left on the table. And there really aren't many that we've left behind. So, yes, there are a few points out there, but we've been very consistent. We've been competitive. We've won a race. I feel good with that."
Johnson is looking for more of the same over the final six races of the season.
"I know if we keep this pace up, we'll definitely be a contender come Homestead," he said.
Harvick, although third in points, 25 back of Kenseth, comes in with momentum. He scored maximum points by winning and leading the most laps at Kansas, and he won the Coca-Cola 600 at Charlotte in May.
"You've just got to try to create some of your own opportunities, but you also have to have some luck go on your side," said Harvick. "Obviously, Jimmie had some luck go on his side, but that is just part of winning this championship. I think that is probably something that we've learned. You are going to get some bad breaks and it's just how you overcome those, and then when you get the good breaks, it's how do you capitalize on those?"
Harvick, in his final season with Richard Childress Racing, clearly relishes the role of underdog.
"Everybody has written us off from the beginning of the year to not be in the Chase and let alone be competitive and winning a race in the Chase," he said. "We will just keep bucking the system, and hopefully it works out."