Chase Elliott wins road-course race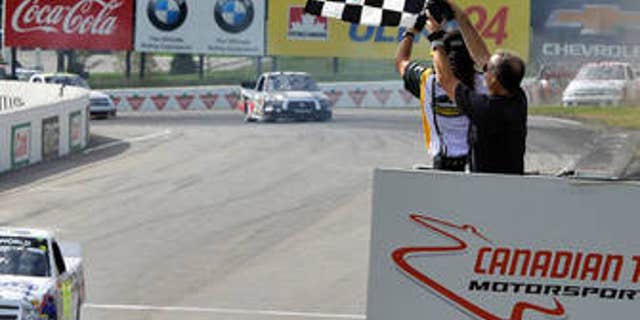 Chase Elliott wrecked Ty Dillon on the last lap Sunday to win the NASCAR Truck Series race at Canadian Tire Motorsport Park.
Elliott, the 18-year-old son of former Sprint Cup driver Bill Elliott, plowed into Dillon on the final turn on the 2.459-mile road course to take the lead and went on to his first series victory.
"We only have so many shots to win these things. I really hate to win them like that, I really do," Elliott said. "That's not how I race and that's never been how I've raced before. I had a shot. I was up next to Ty and I knew he was going to try and chop me off. I tried to make up the difference. ... Sometimes you've got to do what you've got to do to get to victory lane."
Dillon dropped to 17th, the last car on the lead lap, in the series' first race in Canada and first on a road course since 2000 at Watkins Glen.
"You've got to show respect," Dillon said. "I hope he runs Iowa (next week). He won't finish the race."
Chad Hackenbracht was second, followed by Miguel Paludo, Darrell Wallace Jr., Ron Hornaday Jr., Max Papis, Ross Chastain, Timothy Peters, James Buescher and Matt Crafton.
Crafton leads the series standings, 47 points ahead of Buescher. Dillon is third, 63 points behind Crafton