Chase Elliott goes around early in Bojangles' Southern 500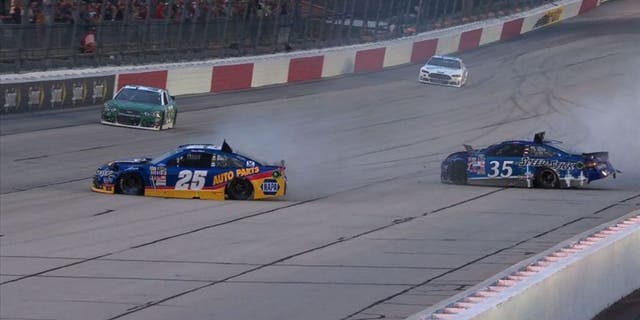 The 'Lady In Black' did not take long to find her first victims during Sunday night's Bojangles' Southern 500 at Darlington Raceway.
Racing in the back of the pack on Lap 6, Front Row Motorsports' Brett Moffitt hit the outside wall at the exit of Turn 2. The contact slowed Moffitt's No. 34 Ford dramatically, causing Cole Whitt to drive right into the back of Moffitt.
Racing tightly behind both cars, Chase Elliott made contact with Whitt's No. 35 Ford, sending it nose first into the inside SAFER barrier.
The incident brought out the first caution of the day, as Whitt was forced behind the wall and later was declared out of the race.
Moffitt and Elliott were able to continue, but had to make multiple pit stops to make repairs.
Elliott, who is making his final Sprint Cup Series start of the season in the No. 25 Chevrolet for Hendrick Motorsports, was forced to drop to the rear of the field at the start of the race due to changing a rear gear after qualifying. By doing so, Elliott forfeited the 22nd-starting spot as a result.