Chas Skelly wants to scramble his way to the top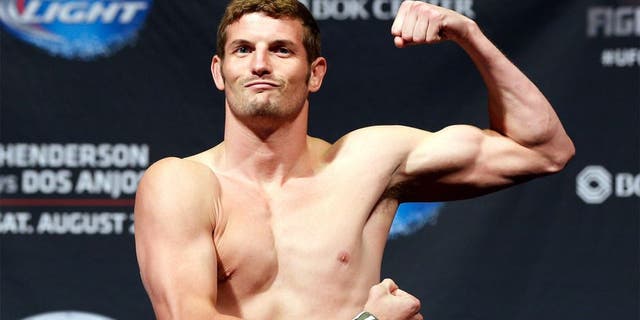 Rising UFC featherweight Chas Skelly loves the scramble. In fact, the fighter's impressive four-fight win streak includes three finishes, finishes achieved, in large part, because of his ability to excel during transition periods in a fight.
The fighter told FOX Sports that his scramble-heavy style of competing dates back to his days as an amateur wrestler. "Yeah, that was exactly my wrestling style," he told us, recently.
"Most everything I've ever done was built on creating space and making things happen in transition."
Skelly was able to do well in wrestling, first, and now fighting, with his hustling approach. "Everybody finds their niche," he explained.
"Wrestling is a sport where you don't have to be tall. You don't have to be super built. You can be skinny, chubby, small, and still excel no matter your body type. If you work hard and do what you're good at, you can do well. I've always been a good leg rider. I defend my leg when people shoot and shift my hip to defend in that manner instead of sprawling in the traditional way. It worked for me. A lot of the funky guys are tall, skinny, lanky guys. Strength was always a disadvantage for me, so I had to find leverage to be stronger than somebody."
Though he got his style from wrestling, Skelly's relationship with the sport is complex, as it is for many lifelong grapplers. Wrestling may have gotten to him first, but at this point, he loves MMA more.
"Wrestling is a weird thing for me. It feels like a love-hate relationship," he said.
"I always loved wrestling. I loved it so much I almost hated it. It's hard, and a lot of hard work. I had to work so hard that I made myself miserable. It was the weight cutting and everything else. I feel like I enjoy MMA more than wrestling. There's so much more to learn. There are so many more different facets. It is not the same thing every single day. I might love MMA more than wrestling. But wrestling has a special place in my heart. Once a wrestler, always a wrestler."
He'll take that wrestler's heart with him into UFC 196 against Darren Elkins. More than that, Skelly says he'll bring a will and ability to finish the fight.
"I think the difference between me and him as that I look for finishes," he challenged.
"He grinds out decisions. We have similar styles but he's more of a grinder."
If Skelly finishes Elkins like he plans to, he'll extend his win-streak to five, and it will be time to recognize that he's an emerging title contender. The 30 year-old's ultimate goal is to become world champion, but he knows that it will take time and more wins.
"If I wasn't doing this to be a champion, I wouldn't be doing it," he insisted.
"Everybody has one common goal. I don't many people in the sport who are in it to be mediocre. I'm here to be a champion, and that's what I'm going to do. But, first I have this fight. My short-term goal is to break into the top-10. Once I do that, a couple more fights and I should be fighting for a title."