Charlotte Motor Speedway surprises Jeff Gordon fans with ticket package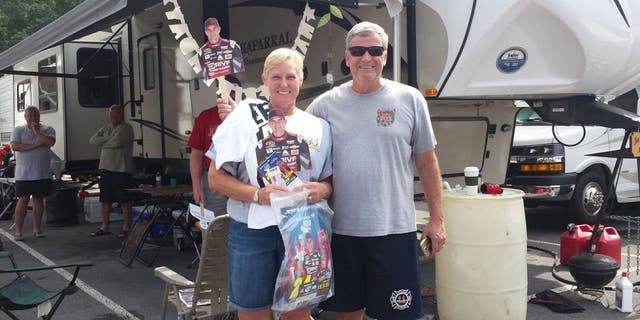 In preparation for Jeff Gordon's final race at Charlotte Motor Speedway, the track recently announced a Bank of America 500 ticket package for all of the No. 24 team fans out there.
The package includes a ticket to the Bank of America 500, a race program designed by artist Sam Bass, a Jeff's Last Ride T-shirt, hat, lanyard, poster and commemorative credential.
While the ticket package is on sale now, Charlotte Motor Speedway's Lenny Batycki hit the Bristol Motor Speedway campgrounds to find some of the biggest Gordon fans and surprised them with a Jeff's Last Ride package of their own.
The speedway told the fans they would be interviewed by a member of the NASCAR media, but when track representatives arrived, they broke out the commemorative items included in the package and two tickets for the Bank of America 500.
Shelley Reeves from Indianapolis was caught off guard as Batycki handed her the ticket package for the Chase race in October.
"I had no idea this was happening," she told FOXSports.com with a big smile on her face.
Reeves, who was surrounded by friends and family, got into NASCAR about 1991 thanks in large part to her husband. Attending her first NASCAR race at Michigan International Speedway in 1994, she latched on to fellow Indiana native Jeff Gordon and has been an avid fan ever since.
At the peak, Reeves and her husband attended upward of 12 races a year, but have cut back to just six events these days. Together they have visited Bristol, Michigan, Charlotte, Atlanta Motor Speedway, Daytona International Speedway, Indianapolis Motor Speedway and Talladega Superspeedway.
With Gordon hanging up the helmet at the end of the 2015 season, Reeves is excited to see her favorite driver transition into the FOX NASCAR broadcast booth and said she is scouting out the other drivers for a new favorite.
"I like all of them," she said. "I was a Rusty Wallace fan, too. Now it's like, 'What do I do?'"
There was no doubting the second recipient of the Jeff's Last Ride ticket package was a huge Jeff Gordon fan. Janet Cleland not only wears her passion for the four-time Sprint Cup champion on her sleeve, she has it tattooed to her body -- 27 times, to be correct.
Cleland was a longtime Richard Petty fan -- she has a No. 43 tattoo as well --" and during "The King's" last race at Atlanta Motor Speedway in 1992, a young kid in a rainbow-colored car caught her attention.
"This kid with a cheesy mustache hit the wall about four times," Cleland recalled. "It was his first (Sprint Cup) race, and I thought, 'That kid's got guts.'"
In 1993, Gordon's rookie year, she decided to become a Gordon fan and has never looked back. Her phone number ends in 2424, the license plate on the family camper is "24Champ," and instead of having a Jeff Gordon room in her house, she says he has a Jeff Gordon house.
After years of collecting die-casts, Cleland's husband says they now have room for just one more display case. All of the cars in her collection are Gordon cars.
Cleland typically goes to the Coca-Cola 600 and both Bristol races, but was taken aback when handed two tickets to the Bank of America 500.
"You guys are making me feel special," she told Batycki and the CMS staff.