Charlotte Hornets select PF Noah Vonleh from Indiana at No. 9; get SG Hairston after trade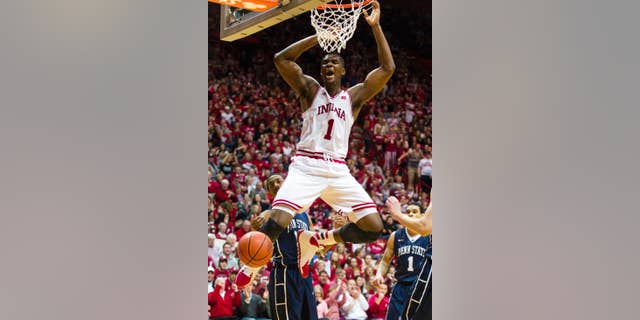 CHARLOTTE, N.C. – The Charlotte Hornets are becoming a pipeline to the NBA for Hoosiers.
For the second straight year the Hornets used a lottery pick on an Indiana player, taking power forward Noah Vonleh with the ninth overall pick Thursday night in the NBA draft. Last year the team selected Indiana power forward Cody Zeller with the No. 4 pick.
The Hornets made a trade later in the first round to acquire shooting guard P.J. Hairston.
A people familiar with the deal told The Associated Press that the Hornets sent Connecticut guard Shabazz Napier to the Miami Heat in exchange for Miami's 26th and 55th picks and a future second-round pick. The Heat selected Hairston, a former North Carolina Tar Heel who played last year in the NBA D-League, at No. 26 for Charlotte.
The people spoke to the AP on condition of anonymity because the trade had not yet been completed by the NBA.
The 6-foot-10 Vonleh said he was surprised to be drafted by the Hornets because they didn't work him out. Then again, he said he never expected to fall to No. 9 pick.
"It was a little bit of a shock, but I'm glad they saw something in me," Vonleh said.
Vonleh gives the Hornets some added height and a potential replacement in case the team is unable to re-sign Josh McRoberts, who opted out of his contract earlier this month.
Second-year coach Steve Clifford emphasized size as a big need for the Hornets this offseason and Vonleh, with his 7-foot-4 wing span and 9-foot standing reach, brings just that to the table.
The 18-year-old Vonleh averaged 11.3 points and nine rebounds and was the Big Ten freshman of the year last season. He spent only one season at Indiana, but led the Big Ten in rebounds and was eighth in the conference in blocked shots.
He's expected to compete for playing time with last year's starter McRoberts — should he be re-signed — and Zeller.
"I'm a hard-working player with a great work ethic," Vonleh said. "I'm going to play hard from day one and try to work my way into the rotation by bringing energy to the floor."
Since 2006, Charlotte has had eight lottery picks but none of them have turned into All-Stars.
They hope that changes with Vonleh, who was projected in the top five in some NBA mock drafts.
The Hornets needed outside shooting but when 6-foot-7 Nik Stauskas from Michigan went at No. 8, they turned to Vonleh.
Vonleh appears to have some range. He connected 49 percent (16 of 33) 3-point attempts last season at Indiana.
"It's something I hope to do more of at the NBA level," he said.
Hairston is the guy the Hornets hope can help them from 3-point land. Charlotte was 23rd in the league in field goal percentage last season and was outscored by 447 points from beyond the arc.
Hairston was dismissed from North Carolina prior to his junior season after a series of off-the-court transgressions and played last season for the Texas Legends of the D-League, where he averaged 21.8 points per game and had two 40-point games in his first five games.
Harrison had 73 3-pointers in 26 games, proving that moving to the longer distance wasn't an issue for him.
Gerald Henderson has been the team's starting shooting guard for the past two seasons, but he's struggled to find consistency as a 3-point shooter.
Hairston broke on the scene at North Carolina as a sophomore proving to be a dangerous outside shooter, leading the Tar Heels in scoring averaging 14.6 points and 4.3 rebounds per game.
But his career at North Carolina officially ended last December when the school announced it would not seek Hairston's reinstatement after he committed several rule violations. His problems stemmed from the use of cars linked to a felon and party promoter earlier in the year.
At the time, the Tar Heels' Roy Williams called it most difficult and saddest thing he's ever gone through as a head coach.
___
AP Sports Writer Tim Reynolds in Miami contributed to this report.