Charlie Strong promises 'wide open' duel for Texas quarterback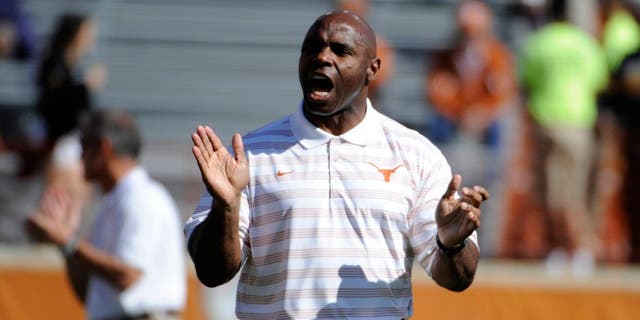 AUSTIN, Texas (AP) -- Texas coach Charlie Strong promised a "wide open" competition for the starting job among the team's five scholarship quarterbacks as the Longhorns opened spring practice Monday.
Despite a wide range of experience -- from senior to freshmen -- all start with the same "clean slate" offered by new offensive coordinator Sterlin Gilbert, Strong said.
"This team is going to go as the quarterback goes," Strong said. "I hope by the end of the spring we can at least say, hey, I feel comfortable with this guy."
Quarterback has been a notorious weak link for the Longhorns, who are just 11-14 in Strong's first two seasons and didn't play in a bowl game last year. Strong knows another losing season in 2016 likely ends his tenure well ahead of his five-year contract expiration.
Against that backdrop, he acknowledged this year's spring drills pack a lot more drama than usual.
"That seat's been hot since I've been here," Strong said. "We need to win. I mean, come on."
Most of the pressure will focus on the quarterbacks: Senior Tyrone Swoopes, sophomore Jerrod Heard, redshirt freshmen Kai Locksley and Matthew Merrick, and true freshman Shane Buechele, one of the standouts in a top recruiting class who has already enrolled in school.
And none of this will likely be very easy to sort out. The younger players have no experience but lots of promise. The older players have the experience but a poor history in being able to win games.
Strong said Swoopes will likely take the first snaps Monday because he was the starter when Texas beat Baylor to end the 2015 season. But Swoopes earned that start because Heard was injured; Heard had earlier taken the job from Swoopes.
Strong said he won't be afraid to start a freshman when Texas kicks off the 2016 season at home against Notre Dame.
"This is a critical year for us," Strong said. "There's a standard here and we need to meet that standard."
Texas finishes spring practice with its annual scrimmage April 16.
MORE FROM FOX SPORTS SOUTHWEST:
- PHOTOS: Cowboys Cheerleaders Auditions
- Top 50 college football coaches salaries in 2015
- Five-star recruits who were never stars in college