Charlie Strong not letting Texas defensive tackle signee Du'Vonta Lampkin out of Letter of Intent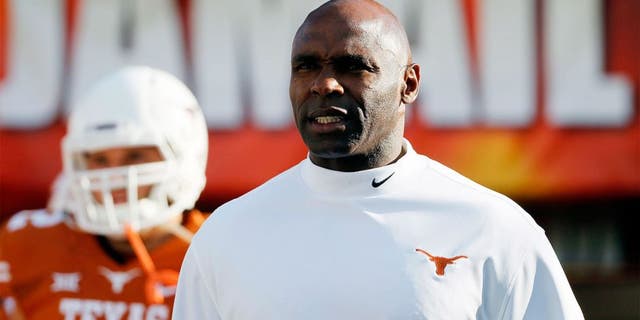 Longhorn defensive tackle signee Du'Vonta Lampkin tweeted on Friday that he's headed to Oklahoma. After failing to meet the foreign language requirement at the University of Texas, Lampkin asked to be released from his letter of intent.
Although Lampkin said he's gained admission to the University of Oklahoma, Texas head coach Charlie Strong doesn't want to let Lampkin out of his scholarship.
"Here's my stance on that: we recruited Lampkin, there was so much time that we placed into Lampkin and then he understood what it took to get into school here," Strong said. "What I don't want to see happen is that all the sudden, we just set the standard where if a young man says, 'Hey, I have to finish this course and if I don't finish it I can go somewhere else,' now we're opening up the doors for other recruits for that to happen. So if you open up the door for one, what if it happens next year? Where there's another guy? Or it could be two guys.
"You knew what the requirements were to get in here. It's the state system. We know this, when you pass one part of the course, you're going to tell me you can't go back and pass the other part of it? Not that I would ever stop a young man from getting a college education -- I wouldn't. Once you have standards and you know what you have to go do, just be accountable. Just be a responsible young man. That's all I'm asking you do."
(h/t Dallas Morning News)