Charlie Daniels Band set to kick off 2017 Waltrip Brothers' Charity Championship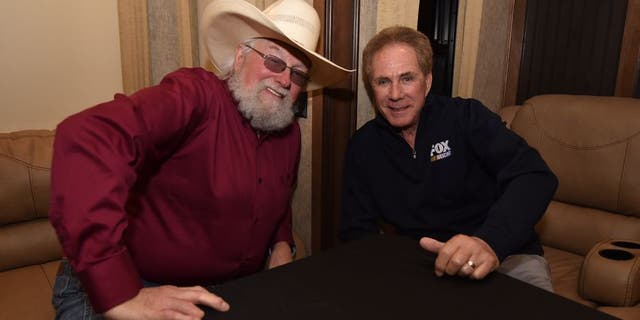 Southern rock legends the Charlie Daniels Band will headline the Champions Dinner Presented by ACLJ.org to kick off the Eighth Annual Waltrip Brothers Charity Championship (WBCC) on Oct. 18 in Franklin, Tenn.
The CBD will open off the two-day fundraiser benefitting Speedway Childrens Charities, Motor Racing Outreach (MRO) and The Journey Home Project. In just seven years, the WBCC has raised $2.5 million for various charities.
Charlie Daniels is an inspiration to all who know him, Darrell Waltrip said. His tireless work in the music business is, at the young age of 80, second to none. However, perhaps more important to his fans and me is the fact he is not afraid to stand up for what he believes in. Whether politics or his charity work, you always know where Charlie stands. Hes a great American and a Country Music Hall of Famer, and Im so proud to have his support for our event and the blessing of calling him my friend.
FOX NASCAR host Shannon Spake and MRO President Billy Mauldin will emcee the Champions Dinner Presented by ACLJ.org. Among those already confirmed to attend the dinner are FOX NFL host and Hall of Famer Terry Bradshaw, country artist Craig Morgan, NASCAR owner Rick Hendrick, NASCAR Vice Chairman Mike Helton and NASCAR drivers Denny Hamlin and Ricky Stenhouse Jr.
During the dinner, three disabled military veterans will receive TDK Service Dog Foundation, Inc. service dogs to assist them in their daily lives. Many of the dinner guests return Thursday morning for the WBCCs no mulligan golf tournament at Vanderbilt Legends Club.
We are honored to be entertaining at the Waltrip Brothers event again this year, tolend a hand in supporting all the great work they do, Daniels said. Besides that, its a lot of fun."
The Waltrip Brothers Charity Championship is a great event, Michael Waltrip said. Weve had some amazing stars perform over the years, and hundreds of amazing people have come together to give thousands of dollars to some wonderful charities. The NASCAR community really rallies around Darrell and me, and Im so thankful to everyone who helps make our event so special.
Tickets for the dinner and/or golf tournament are available at www.waltripbrothers.com.