Charles Woodson appreciates overwhelming support from Raiders fans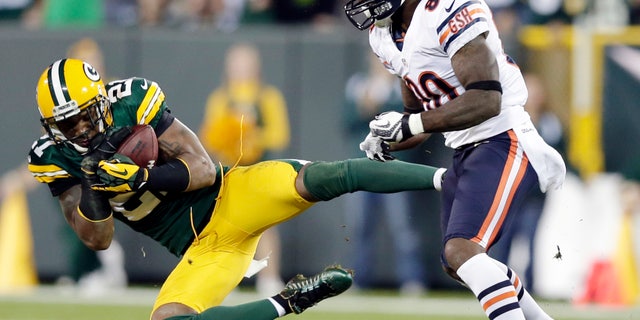 ALAMEDA, Calif. – Charles Woodson had gotten word that Oakland fans had mobilized through social media to hold a rally at his free-agent visit to the Raiders.
Even Woodson was blown away by the reception that included more than a hundred fans decked out in Raiders gear and costumes waiting at the team facility for his arrival Tuesday.
"It was overwhelming," he said Wednesday. "I think that if at any time I'd ever forgotten what the love was like in Oakland, I was definitely reminded yesterday."
The love from the fans, the belief in general manager Reggie McKenzie's rebuilding project and a one-year contract worth up to $4.3 million all led to Woodson's decision to return to his original team seven years after leaving as a free agent for Green Bay.
"I was actually scared of leaving the facility and not having a deal done," he said. "I don't know if I would have made it out of there. But that was a big deal, and receiving that kind of welcome, it definitely put me in a mindset that it would be a good decision to make it happen."
Woodson came into free agency after being released by Green Bay in February looking to play for a Super Bowl contender and met with upper echelon teams San Francisco and Denver during the process.
Nothing came together with the 49ers and the Broncos weren't willing to make the same commitment as the Raiders, leading to Woodson's decision to sign with Oakland.
While the Raiders are coming off a four-win season and haven't made the playoffs since Woodson's fifth season in 2002, he has trust in McKenzie after spending six seasons together in Green Bay where McKenzie worked in the Packers' front office
"After talking to Reggie, I got a good feel about how he felt about the team and that just really gave me confidence that they're going in the right direction," he said. "Going into the facility yesterday, I felt good about where things stood, and if I signed I was going to be going to a team that has good players on the team. The game is about fundamentals and playing good football, and they have some good players, and if we can put it together then we'll win games."
Woodson, the fourth overall pick in 1998 by Oakland, returns to the Raiders as a safety at age 36. He will likely slide in at free safety in place of the departed Michael Huff and the Raiders will use his versatility to upgrade a defense that struggled last season. Woodson said he has fully recovered from a broken collarbone that sidelined him for nine regular season games last year.
Woodson is an eight-time Pro Bowler and 2009 NFL Defensive Player of the Year. He has 55 career interceptions, 17 sacks, 24 forced fumbles and 11 interception returns for touchdowns in eight seasons in Oakland and seven in Green Bay.
"I'm just going to bring the intensity," he said. "I'm a football player so I'm going to bring a lot of intensity, somebody that's passionate about the game, and a guy that knows how to make plays. That's what I'm going to bring. I think when guys watch me play, I think that raises the level of other guys because of the way I play the game. I'm going to bring that mindset, that mentality to the game, the same as I always have and have fun doing it."
One of Woodson's first orders of business will be negotiating with new teammate Tracy Porter to get his old No. 24 jersey back. He wore that uniform in his first stint with the Raiders, owns a Napa winery called TwentyFour and has many fans eager to bring out their old Woodson jerseys to wear to games next fall.
"We'll definitely have to have that conversation," Woodson said. "We haven't had it yet. Raider Nation has me back but I don't know if they'll have me back without the 24 on my back."