Chargers say Seahawks rookie DE took cheap shot at Philip Rivers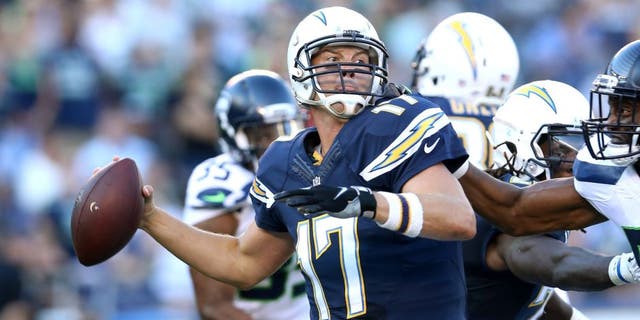 The San Diego Chargers are alleging that Seattle Seahawks rookie defensive end Frank Clark went after Philip Rivers after he was already down during Saturday's preseason game.
The play in question occurred in the first half of the contest. Jordan Hill sacked Rivers, and then after the sack a scrum developed, with Rivers on the ground clinging to Clark's jersey for a few seconds while it appeared he was chewing the rookie out.
King Dunlap didn't see the play but was penalized 15 yards for unnecessary roughness after he not-so-delicately pulled Clark off his quarterback.
"That guy was on top of Philip, and that's our quarterback," Dunlap told the San Diego Union-Tribune. "I protect the quarterback at all costs."
Fellow offensive lineman D.J. Fluker echoed Dunlap's sentiment.
"That's our quarterback," Fluker told the Union-Tribune. "We're going to protect the jewel of our offense."
The newspaper also reported that one of the Chargers players said Clark "tried to punch Rivers" after Hill made the play.
This isn't a good look for the rookie pass-rusher, who entered the NFL with a huge red flag after his involvement in a domestic violence case during his tenure at the University of Michigan. The Seahawks received some criticism for drafting Clark in spite of the accusations, which were later dismissed after the prosecuting attorney deemed the evidence wasn't enough to make the charges stick.
More from Sportsnaut: