Chargers' Rivers: The Packers are next -- there's no time for self-pity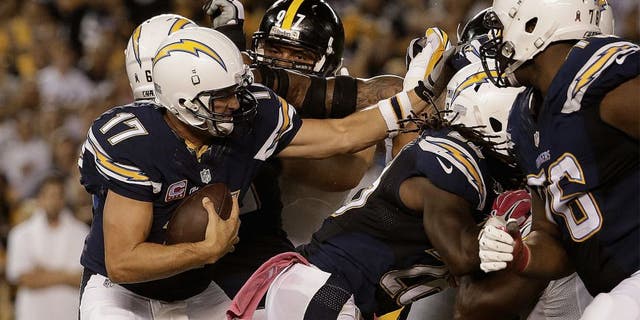 NEWYou can now listen to Fox News articles!
Philip Rivers knows he's got a showdown with the NFL's reigning MVP in a few short days.
It's imperative that the Chargers' star quarterback puts Monday night's crushing loss behind him -- and fast.
"We made a few plays here or there, it may have been different," Rivers told Ricky Henne of Chargers.com "But it isn't, and shoot, we've got no time to mope around and feel sorry for ourselves."
Aaron Rodgers certainly won't pity the Chargers. He's got an unblemished record and a hot streak at Lambeau Field to protect.
Rivers could hang is head about his game-changing pick-six against Pittsburgh. He could kick himself over leaving too much time on the clock for a Le'Veon Bell score.
Both would only serve to detract him from preparing for Rodgers and Co. in Week 6.
Said Rivers immediately after the game: "The place we're going next week, it's going to be an even tougher challenge."
MORE NEWS: Want stories delivered to you? Sign up for our NFL newsletters.