Chargers owner will do 'best I can to stay' in San Diego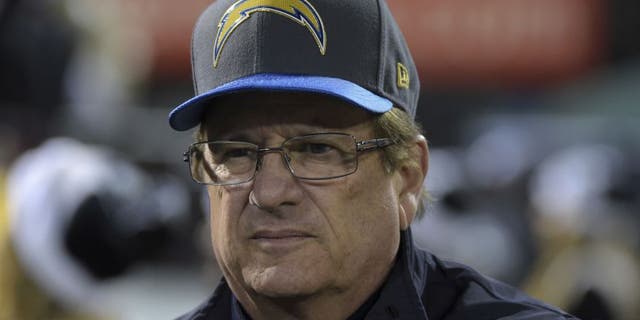 Dean Spanos' tune has changed.
The Chargers owner, who had seemingly given up on San Diego during his quest to move the team to Los Angeles, seems interested in staying put. Spanos came in second place in the "NFL to LA" contest and was given a year to decide to whether to join Stan Kroenke's Rams up north. However, he hasn't left.
And although there is much work to be done to get a pulic-private stadium built in the San Diego area, Spanos is now at least speaking out about the possibility.
"Whatever we need to do," Spanos said to the San Diego Union-Tribune. "we're going to do what we need to do to get this done ... We're trying as hard as we can. I can't do it myself. It's going to take the effort of the mayor; politically we need support. The business community needs to step up. I think once we have a definitive plan in place they'll get behind us and support us. It has to economically make sense for the voters, and I think (the business community) will help make that case down the line and they'll support us."
The team is trying to decide if they should try to get a new stadium built in downtown San Diego or in Mission Valley, both of which will require a good amoung of public funding. However, a citizens' initiative needs to be finalized and they must try and get a November ballot measure passed.
And even though the Chargers would be worth less money if they stayed in San Diego instead of moving north the Los Angeles, that's not something Spanos isn't prepared to deal with.
"That's nothing new. I like San Diego. I never said I didn't like San Diego. It's not L.A., not New York, not Chicago, not Dallas. It is what it is. I've never complained about the market size. Plus, I've been here 30-some years now."
Wow, so what brought this change of heart? Just months ago, Spanos seemed at his wit's end with San Diego, right?
"Obviously, having options was important, and $100 million from the league is significant. It's a great starting point," Spanos said. So there are a couple things. You step back and say, 'It's easily worth it to try to get something done here, so let's give it a try.' When you have an extended option like we have (in Inglewood), why wouldn't you take the opportunity to try to get something done here? I mean, it's more personal to me. I've always said I want to be here. So the option is the option, and I'm going to do the best I can to stay."
Again, nothing has been decided yet. However, these comments have to be viewed as a positive sign for those hoping the Chargers don't end up moving to Los Angeles.
(H/T to San Diego Union-Tribune)