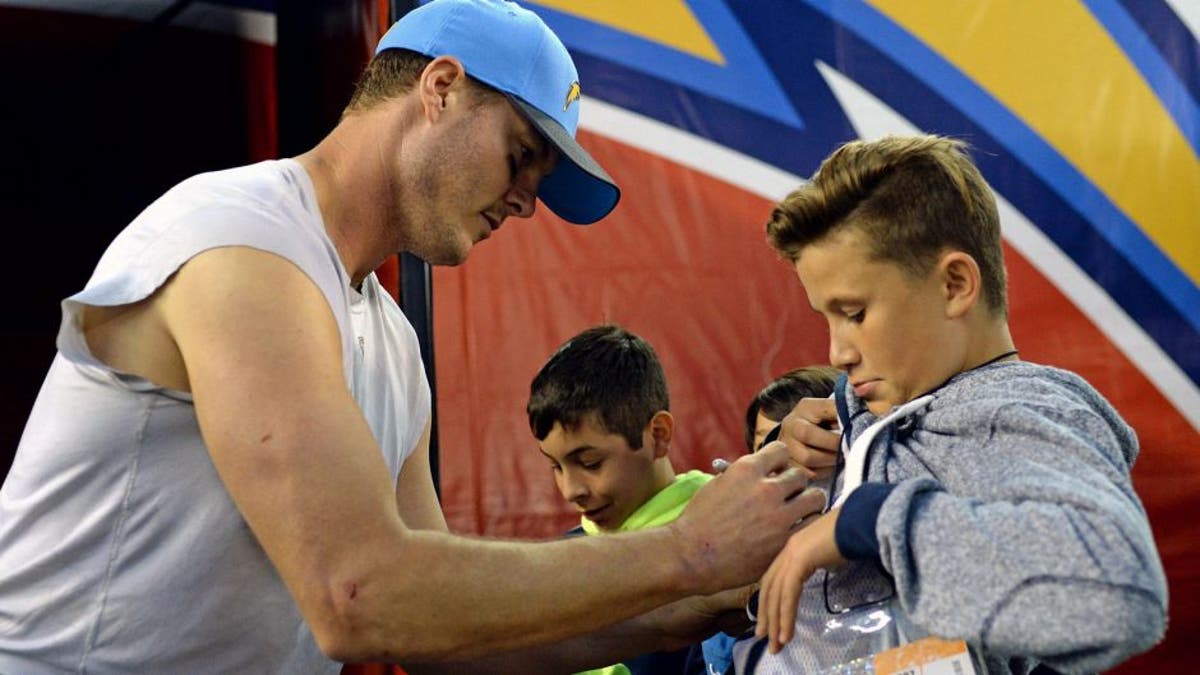 Each day between now and post-Super Bowl Monday, we'll roll out a get-to-the-point offseason plan for one NFL team. Today, the Chargers; tomorrow, the Chiefs-Patriots loser. After that, we'll see. Here's our three-point plan for San Diego, err, Los Angeles:
1. Build a fanbase -- fast
Newsflash for Chargers ownership: You might think you're walking into the Los Angeles market either this year or next with a ready-made audience. You're wrong. LA is apathetic toward you at best and antagonistic at worst. Remember, this was a city that housed the Raiders -- a fierce AFC rival -- for 13 years, and there is still a huge group of fans there that has remained loyal to the Silver and Black. In fact, you can guarantee those same fans will fill your stadium and actively root against you during home games against Oakland. So, start with flooding the market with your players -- pressing hands and kissing babies -- and with discount offers for season tickets. Buy advertising space wherever you can and try to win the hearts and minds of Angelenos. There's no guarantee this will work, but you won't get a second chance at a first impression. Time is wasting. Get to work!
2. Let Antonio Gates and Eric Weddle walk
Does that sound like blasphemy? Grow up. Both Gates and Weddle have done great things for the organization over the years, but those days are over. Gates was suspended for the first four games of this season for a PED violation, and though the tight end did some nice things in the 11 games he played (56 catches, five TDs), it's clear the 35-year-old is not the same player he once was. Weddle is a talented and durable safety, but his relentless complaining about getting a new contract has turned his relationship with the team toxic. It doesn't help that he decided to stay on the field during halftime of a December game to watch his daughter perform in an on-field show. He's already checked out. Let him leave and save the money it would cost to keep a player who just turned 31.
3. Don't panic about Melvin Gordon
This one is more for Chargers fans than it is the organization. Yes, the Chargers traded up to grab the Wisconsin product in the first round of the 2015 draft. Yes, it's true he didn't wow many people with his statistical output -- 641 rushing yards with a 3.5-yard average. Yes, it's true he was put on injured reserve late in the season with a knee injury. But the Chargers coaching staff is still very high on Gordon. "Did he have any big explosive touchdown runs? No. That's something that he has the ability to do. But I think really it goes down to everybody doing their jobs better, and not just Melvin Gordon. It's not just a one-man show. But he's got a bright future. He's a very talented player," Chargers coach Mike McCoy told the team website. So, what to do going forward? Simple, improve a banged-up offensive line and develop weapons other than Keenan Allen and Danny Woodhead who will force teams to respect the pass and stop bunching at the line of scrimmage. It can be done.
EARLIER TO-DO LISTS
• Tennessee Titans
• Houston Texans
• Cincinnati Bengals
• Minnesota Vikings
• Washington Redskins
• Cleveland Browns
• Dallas Cowboys