Chargers lean on an old, reliable receiver with Keenan Allen out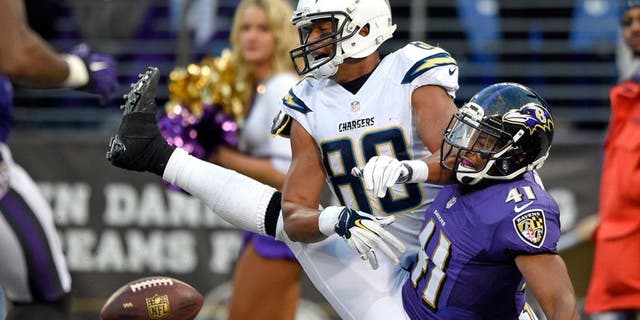 The Bolts have a sturdy in-house option to replace Keenan Allen's lost production. Nick Wass AP Photo
Malcom Floyd plans on hanging up the cleats and calling it a career after 2015.
But before he does, the 34-year-old receiver will reprise his role as Philip Rivers' top target in a beaten-but-not-broken Chargers passing game.
It'll be up to the veteran to pick up the slack left behind by Allen. He's up for the task.
"My role could possibly pick up," Floyd told ESPN's Eric D. Williams. "And I've just got to be ready by taking care of my body and just be prepared for what the coaches are going to throw at me."
They'll throw everything they can at No. 80. And chances are, he'll catch it; Floyd has been a sturdy Rivers ally for season upon season in San Diego.
"Malcom is Malcom," Rivers said. "What he's good at, and what he's done over the last 12 years is who he is. So I don't think we'll ask him to do too many different things out of his comfort zone."
(h/t ESPN)