Chargers and Jets finishing up seasons with lots of uncertainty ahead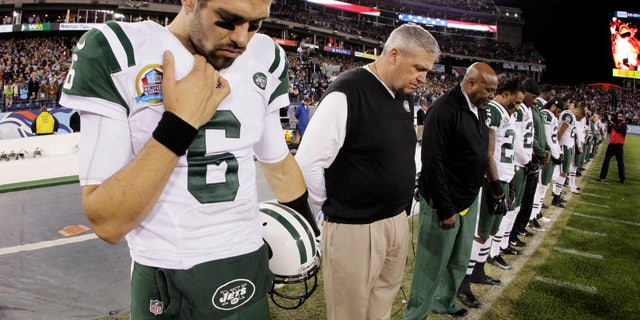 EAST RUTHERFORD, N.J. – Norv Turner knows the end is likely near for him with the San Diego Chargers.
General manager A.J. Smith might be out soon, too.
There are two games left to play before an offseason of uncertainty begins. And, the New York Jets' Rex Ryan and Mike Tannenbaum know the feeling.
Regular playoff participants a few years ago, both franchises are struggling to the finish line. And a winter of big changes could be in store.
"It's been difficult, in terms of offensively, and I can only speak for my side of the ball and what I'm able to contribute," Chargers tight end Antonio Gates said. "Not playing up to our expectations and not playing up to the level that we've set and the standard of what we set for ourselves, sometimes it's frustrating because you do everything the right way. You prepare and you work hard. ... Not being able to capitalize on the season, it's been tough."
Both the Chargers (5-9) and Jets (6-8) are out of the playoff race, and the two will play Sunday at MetLife Stadium, hoping to end the season on a positive note.
Mark Sanchez has been benched by Ryan, who is turning to third-stringer Greg McElroy to make his first NFL start Sunday. McElroy stepped in for Sanchez three weeks ago to rally New York to a 7-6 win over Arizona, and has leapfrogged Tim Tebow on the depth chart.
"This is a once-in-a-lifetime opportunity," McElroy said. "This is a great moment and a great milestone in my career. Obviously, this is something I've looked forward to and I've dreamed about my entire life. I'm thrilled to have this opportunity."
McElroy, a seventh-round pick out of Alabama in 2011, could be auditioning for a job beyond the next two weeks. The Jets are considering all of their options, including trades, regarding Sanchez and Tebow, so McElroy could very well be in position next season to compete for the starting job with good showings against the Chargers and Buffalo Bills.
"I'm taking it one step at a time, and that's the only way you can look at it," McElroy said. "You can't get caught up in next week against Buffalo. You can't get caught up in the offseason. You can't get caught up in next year. Just enjoy this game and the fact that I'm able to step out there on the field against San Diego. Enjoy it, make the most of it and have fun out there."
As of Thursday, Ryan hadn't decided whether McElroy's backup will be Sanchez or Tebow — or both. Tebow was expected to be a major part of the offense, but instead has been just a minor role player. The wildcat-style offense didn't produce as expected, and Tebow hasn't gotten many opportunities to remind everyone why he was one of the most dynamic and exciting players in the NFL last season while leading the Denver Broncos to a playoff victory.
"Every opportunity you get, you want to make the most of and I'd have loved to have more of an opportunity to just play quarterback," said a clearly disappointed Tebow, speaking in a low tone. "And obviously, that's my goal. I'll just make the most of these last two weeks and see what happens after that."
There could be plenty, and Tannenbaum and Ryan aren't even certain to stick around. They helped turn the franchise around in 2009, when the Jets went to the first of their two straight AFC title games. But there's been a lot of disappointment since then with New York missing out on the playoffs two years in a row.
"Right now, I'm not looking further than this game against San Diego and then we have one more game," Ryan said. "We'll see what happens. My focus has to be with those two games and that's it."
Turner is taking a similar approach despite recent reports that the Chargers will make a move to replace him after the season. San Diego has dealt with several key injuries this season, including to wide receiver Vincent Brown, tackle Jared Gaither and running back Ryan Mathews, who broke his left collarbone in the Chargers' 31-7 loss to Carolina last Sunday.
Turner said regardless of what happens, he would like to continue coaching in the NFL next season, even if it means as an offensive coordinator elsewhere. The Jets could potentially be in the market for one after their offense struggled mightily — ranked 30th overall — in Tony Sparano's first season as the coordinator in New York.
"I think people that know me know that I'm a coach," Turner said. "I like coaching. I want to coach. I think you get to a point where there are things that are important to you. If I continue to coach, I want to be in a good situation, a place where you have an opportunity to win and be in a situation that there are coaches I've worked with and been around."
Chargers quarterback Philip Rivers has had his share of troubles this season, just like Sanchez, and has 47 turnovers in the last two years. Despite all that, he needs 210 yards passing to become the first Chargers player with five straight seasons of 3,500 or more yards passing.
San Diego still looks at Rivers as a franchise-type quarterback, and sitting him the last two weeks — as the Jets might do with Sanchez — wasn't in Turner's game plan.
"For our team and for our situation, a change was never a consideration because the things that were keeping us from getting done what we needed to get done had a lot more to do with other spots," Turner said. "I know ultimately the quarterback gets a lot of the credit or blame, but it just wasn't the issue with our team as we went through our season."
___
Online: http://pro32.ap.org/poll and http://twitter.com/AP_NFL