Chara looks likely for Game 3 at Bell Centre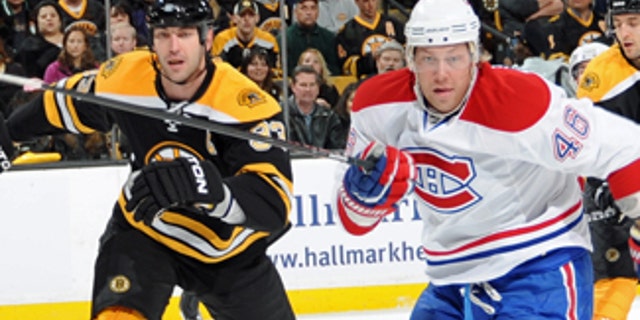 MONTREAL -- Zdeno Chara was not only on the ice with his Boston Bruins teammates Monday morning, he was smiling, joking with teammates and looking every bit like a man who was ready to return to action for a pivotal Game 3 matchup with the Montreal Canadiens.
Chara did not speak to the media after taking part in the entire skate, leading his teammates in the post-practice stretch, but Bruins coach Claude Julien suggested the chances his captain will play Monday night are strong.
"As of right now he's looking good," Julien said. "But I can't stand here and say he's definitely in."
Chara missed Game 2 on Saturday after he was admitted to Massachusetts General Hospital one night earlier with dehydration, which was reportedly brought on by a virus, something the Bruins haven't confirmed.
His absence was sorely felt by a Bruins defense that was already thin, as Julien gave his replacement, Shane Hnidy, very limited minutes.
The question that remains to be answered is how well Chara would be able to handle the monster minutes he usually eats up, which were north of 25 in Game 1.
"He always looks good to me, but who am I to judge him?" Bruins forward Shawn Thornton said, standing in front of Chara's locker because the crush of media in the visitor's dressing room was too great for him to get to his own locker. "He looked fine, and I hope he's good to go."
Then there's the fact that this will be Chara's first game in Montreal since March 8, when his hit on Montreal's Max Pacioretty caused the left winger to strike his head on a stanchion between the benches.
Pacioretty lay unconscious on the ice for several minutes and has yet to return from the fractured vertebra and concussion he suffered on the play.
Chara is booed lustily in Montreal every time he touches the puck in any case, so it's difficult to imagine just how intense that booing may get Monday night.
"I don't know how much louder you can boo him," Thornton said. "Every time he touches the puck 22,000 people have booed him here for the four years I've been here. I don't expect anything different. He's used to it, and he's pretty strong mentally, so I'm not worried about it."
By the same token, the Canadiens will be playing in front of fans that showed in last year's playoffs just how loud they can be in support of the home team, and Michael Cammalleri has the same view as Thornton on what to expect from them in Game 3.
"That's the challenge to the fans, can they get any louder?" Cammalleri said. "I think the same thing would suffice."
Montreal should be welcoming back an important piece of their own as Andrei Kostitsyn was skating with his linemates Cammalleri and Tomas Plekanec at Monday's morning skate. Kostitsyn took a Chara slap shot off the left foot on his first shift of Game 1 and didn't play the rest of the period. He played sporadically in the second before going back to his line in the third, blocking two more Chara point shots back to back midway through the final period.
Canadiens coach Jacques Martin said Kostitsyn would be a game-time decision, but he should be in the lineup based on how he was moving around in the skate.
"He's kind of a guy that can be a game breaker," Cammalleri said. "He can come out over the course of two shifts and make two great plays and that's two goals on the board. He's that kind of player that you like to have in the lineup."
While Martin has no need to mention who his starting goalie will be, Julien begged off the question as to whether Tim Thomas will start a third straight game or whether he will turn to Tuukka Rask.
Thomas' career regular season numbers in Montreal are not glowing with a 3.33 goals-against average, .905 save percentage and 3-7-3 record. But his playoff numbers in the Bell Centre are considerably better, with a 3-3 record, 2.65 GAA and .912 save percentage.
Thomas was the first goalie to leave the ice after the morning skate, suggesting he will be back in the net Monday night.
The Bruins are well aware they haven't won in Montreal all season, and know how vital it is they break that streak Monday night because if they don't, it could mark the death knell of their season.
"This building's always a tough building to come into in the playoffs, so the first five minutes, it's like no other place in the League," Thornton said. "We're going to have to play smart hockey, and hopefully we can get the first one. It makes life a lot easier in the playoffs if you can get the first goal. But that being said, even if we don't we can't panic. We have to figure out a way to get the second one."