Change in lines has Hawks playing best hockey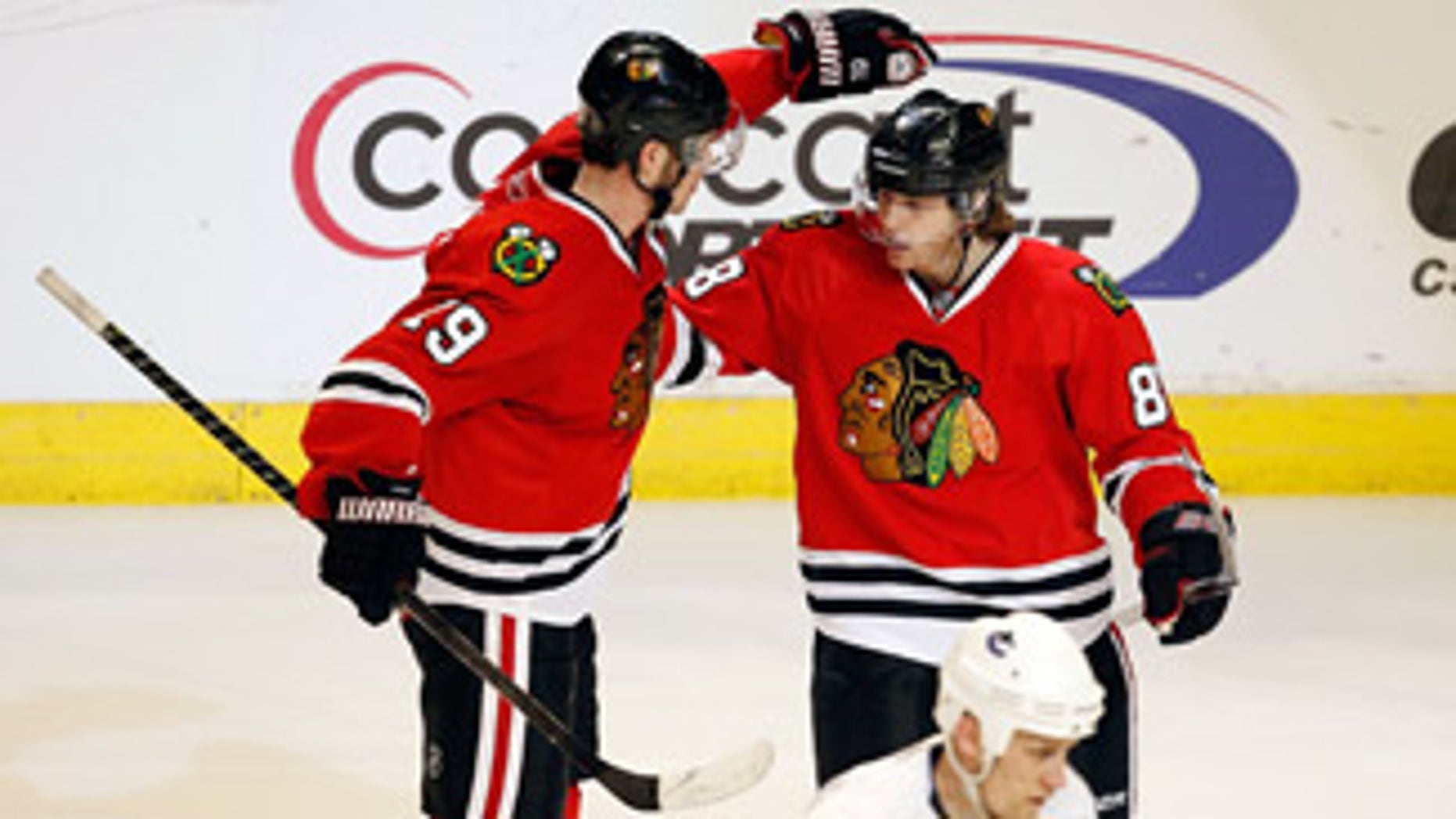 CHICAGO -- Comments from around the Chicago Blackhawks dressing room suggest the reasons for their current five-game win streak range from chemistry on the new lines and defensive pairings to keeping things simple, and of course, to the ridiculously torrid scoring tear that captain Jonathan Toews is on.
Yet the one factor that trumps all of them is the focus and wherewithal the Blackhawks have been playing with. They don't want to join the 2007 Carolina Hurricanes and 1996 New Jersey Devils as Stanley Cup champs that failed to make the playoffs the next season, so they're playing with some serious purpose right now.
"The easiest thing to say is we're just bearing down," Patrick Kane told NHL.com. "I don't want to say you're not focused in the middle of the season or early in the season, but right now everybody realizes the importance of the situation we're in and it seems like every game is a must-win. I think we're just bearing down, more focused and more concentrated on one game at a time. That's probably been the key to the success."
The Blackhawks feel they've never been better this season than they are right now. Kane said the feeling they had last season, when they would show up for a game thinking there was no way they were going to lose, almost is back.
The Blackhawks will go for their sixth straight win Wednesday against the similarly hot Calgary Flames at United Center, and they know what is on the line. Chicago can leap the Flames and move into fourth in the Western Conference with a win. A loss could drop the Hawks a few spots.
"It's fun watching other games. You get to enjoy them sometimes but other nights you don't enjoy them," Hawks coach Joel Quenneville said Wednesday. "When you're in them, it's like a playoff game."
Quenneville put his current lines and defense pairings together five games ago, and the Hawks, while challenged, have given their coach no reason to re-think his strategy.
Kane, for one, loves being the right wing on an All-Star top line with Toews and Patrick Sharp. He's actually been the weak link -- comparatively speaking -- with only 5 points and 13 shots on goal in the last five games. Toews, February's NHL Player of the Month, has 9 points and 20 shots, while Sharp has 6 points and 17 shots.
That's 20 points (8 goals, 12 assists) and 50 shots on goal by that trio over the last five games. They're a combined plus-10.
"The one thing about our line is we're never really satisfied. If we get one or two we want to get the third and fourth one, too," Kane said. "I feel we can be even better at times, but right now it's clicking and you can attribute that to a lot of things. The other lines are going, so you're rolling four lines and you're not out there for 25 minutes a game."
Dave Bolland and Marian Hossa have developed some chemistry on the second line along with Bryan Bickell on the left side. Hossa seems to have curbed his inconsistent play and has goals in four straight games. Bolland and Bickell each have chipped in with a goal and an assist over the last five games.
As more than one Blackhawk pointed out, however, the most important element of the team's success has been the play of veteran center Ryan Johnson. Quenneville gave Johnson a defined role on the fourth-line five games ago, and his 12-plus minutes per game has taken some of the pressure off Toews, Bolland and third-line center Jake Dowell.
Johnson has 2 assists and is a plus-3 in his last five, but Kane said Johnson's speed has created scoring chances for the fourth line and allowed the Blackhawks to play their puck-possession game even when the top scorers are not on the ice. For example, Tomas Kopecky scored a huge second-period goal Monday against the Wild that gave Chicago a 2-0 lead en route to a 4-2 win.
"Having Johnson come in and be rock solid has allowed things to sort themselves out," Keith told NHL.com. "Kopy stepped up and scored a big goal last game. For whatever reason, mixing up the lines and changing the pairings around has worked."
It still comes back to the focus, though. That, goalie Corey Crawford said, is evident in the small things that only the most astute analysts tend to notice, such as where the defensemen look to deliver the first pass out of the zone.
"The last couple of games we're not forcing plays; we're keeping it simple and trying to create opportunities where we're not going to give them something if we mess it up," Crawford said. "It's not like we were losing by two or three or four goals. A lot of our losses have been by one goal, so it was just a matter of turning it around for our side."
They better not blow it now.
"We understand the situation," Keith said, "and that's what we're focused on."
Follow Dan Rosen on Twitter: @drosennhl