Chael Sonnen: Jon Jones will be back sooner than you may think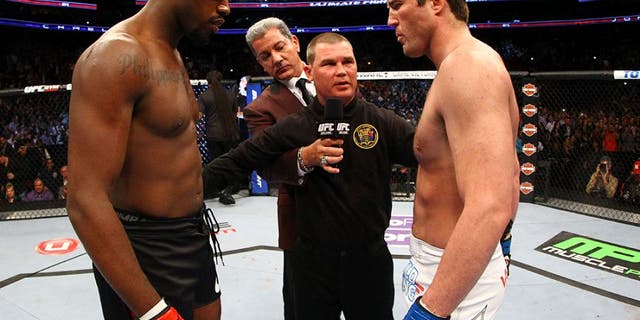 NEWYou can now listen to Fox News articles!
As it stands, MMA fans simply don't know when, if ever, they'll see stripped former UFC light heavyweight champion Jon Jones compete in the Octagon, again. He faces felony hit-and-run charges, and has been indefinitely suspended from competition by the UFC.
Furthermore, his manager has publicly said that he doesn't know if Jones will ever decide to fight, again. Former "Bones" opponent Chael Sonnen claims to know the youngest champion in UFC history well, however, and insisted recently on his You're Welcome podcast that Jones will fight again, and regain his world title.
"I think Jon Jones is gonna be back a lot sooner than you think," Sonnen said.
"He's still got to get through a court date and anything could happen there, including jail time. If he gets jail time that just kicks the can down the road further as far as his return. He'll definitely be back and he will be champion again."
Everything Sonnen says must be taken with a grain of salt, but it can't be said that he doesn't understand a lot of what Jones must be going through. After all, as a convicted felon himself, Sonnen knows what it's like to go through the criminal justice system while being an active fighter.
Also, as fighter also currently serving out a suspension from competition as Jones is, Chael has some insight into that experience as well. At the end of the day, Sonnen isn't interested in pretending that Jones is either a villain or a saint.
"He's a young guy that behaves as a young guy," he continued.
"Some people get success, and they change. I don't know that he's changed. He was behaving like a knucklehead before he was champion and he behaves like a knucklehead now. He's a young guy, and I think a little bit needs to be considered there. He's a fist-fighter. He fights inside a steel cage. I'm not totally sure all that's expected of him, and why?
"He's a very nice guy and that story never gets told. It seems like whenever he does something bad, there's always a camera around him but when he does something nice it just goes unnoticed. I know him pretty well and he's a nice guy. He just behaves like a knucklehead and to me that sounds like a pretty regular person."