Chacin looks to lead Padres to series sweep vs Reds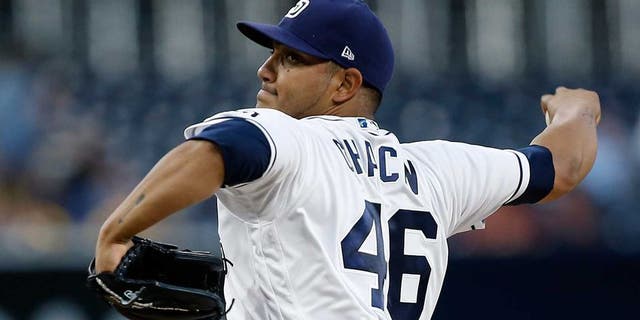 NEWYou can now listen to Fox News articles!
SAN DIEGO -- The San Diego Padres' Jhoulys Chacin is at home near the San Diego Bay. That could present a challenge for the Cincinnati Reds.
The teams cap their three-game series with an afternoon game on Wednesday. The key for Chacin is the game is at Petco Park and not at the Great American Ballpark.
Chacin (5-5, 5.35) is pitching well in San Diego. His ERA of 1.58 at Petco Park is the second-lowest home ERA among major league starters, with only the Houston Astros' Dallas Keuchel (1.04) being a tad better.
The right-hander won his last time out, at Petco Park. He ran his home record to 3-1 when turning back the Kansas City Royals over seven innings, allowing two runs on three hits and two walks.
"It was definitely a good one for him," Padres manager Andy Green said. "He has a number of good ones this year."
For Chacin to shine, he has to put faith in his slider.
"His slider execution was very, very good for him," Green said. "He was putting it right off the edge of the plate consistently. It gave the appearance of being a strike before falling off.
"For Jhoulys to be successful, he has to be mixing all his pitches and trusting his slider at any point and time."
Chacin is 1-2 with a .310 ERA in six career meetings, four starts, against the Reds.
The Reds will send out Amir Garrett. If nothing else, he's well-rested as they look for their first win on this six-game road trip.
Garrett, a southpaw, took a line drive off his pitching hand in his last outing Friday. He was gone after 23 pitches.
Before that abbreviated start, Garrett, a rookie, was rocked pretty good. He lasted but 2 2/3 innings when giving up nine runs (eight earned) in a loss to the Braves.
All this happened after Garrett won three of his first five starts. But since, there's been a demotion to Triple-A Louisville and a stint on the disabled list with right hip inflammation.
"It's not a huge sample size but at times he has been very impressive," Reds manager Bryan Price said. "And at other times he's looked like a young rookie pitcher trying to find his way."
Garrett relies on a fastball, slider, changeup mixture of weapons.
"He's got good stuff and he is a great competitor," Price said. "And out theme here is throw it over the plate and the hitters will let you know what you need to change or adjust. And he's been pretty good with that."
The Reds are hoping Garrett, who has never faced the Padres, has his hip ailment squared away. He's yet to last past the third inning in the two outings since coming off the disabled list. Although one early exit was due, in part, to a bruised left hand.
"He'll throw the ball over the plate," Price said. "the issue is the quality in the zone. If he has his three-pitch mix, those three pitches will play throughout the count.
"When he's going good, he doesn't get cornered in a 2-0 count and has to groove a fastball. He could throw a slider or a changeup or locate a good fastball. That is really the strength of most pitchers if they are going to compete in this game. You have to take the predictability out of it and have the bulk of your arsenal available."