Cespedes deal with A's a head-scratcher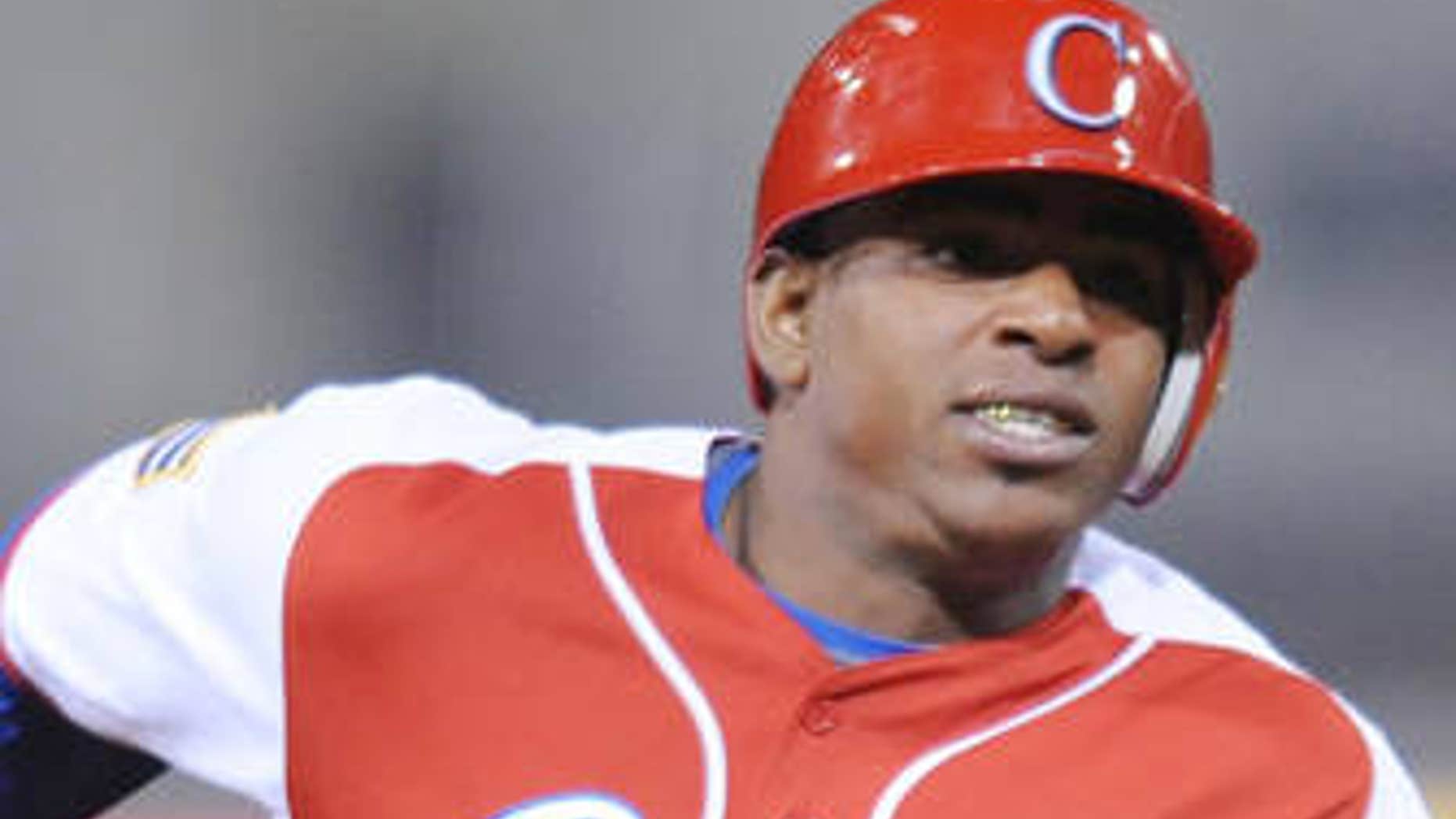 Oakland Athletics owner Lewis Wolff acknowledged recently that even if the A's receive permission to move to San Jose soon, they likely would not open their new ballpark until 2016.
On Monday, the Athletics stunned the baseball world by agreeing with Cuban outfielder Yoenis Cespedes on a four-year, $36 million contract that allows him to become a free agent after 2015, according to major-league sources.
Why would the Athletics agree to such a short deal when sources say that teams such as the Miami Marlins and Chicago Cubs wanted control of Cespedes, 26, for at least six years?
What is the point of the Athletics even signing Cespedes if he might be gone before they ever find their way to San Jose?
Both reasonable questions -- and considering the uncertainty surrounding Cespedes, who has never played an inning in the North American system, there are many more.
If the Athletics are right about Cespedes, they likely will lose him after four years, when a team in a more robust market will be willing to pay him monster dollars at age 30.
If the Athletics are wrong about Cespedes, well, there goes $36 million -- a huge sum for a low-revenue team that routinely fields one of the lowest payrolls in the sport.
So again, what is the logic?
It's actually fairly simple: The Athletics view Cespedes as a premium middle-of-the-diamond performer, the kind they never attract in the major-league free-agent market. Seeing as how Cespedes never has seen Oakland or the much-maligned Coliseum, he can't run from the city or ballpark the way established major leaguers do.
Timing, then, was everything. The Athletics might not have landed Cespedes if he had become available earlier this offseason; a greater number of high-revenue teams likely would have been involved. But general manager Billy Beane saw an opening, knowing that most in the industry assumed Miami was the best fit for Cespedes -- and that the Marlins, as the supposed front-runner, probably figured they would not need to overpay.
The willingness of the A's to negotiate a shorter contract separated them from other clubs, but also confounded rival executives, some of whom say that Cespedes needs to start in the minors as he makes the massive adjustment from Cuba to the U.S.
The Athletics have no such plans for Cespedes -- they intend to start him in center, move Coco Crisp to left and play Josh Reddick in right, with Seth Smith getting most of his at-bats as a DH, sources say.
The team's strategy will be fine if Cespedes produces immediately -- and the Athletics believe that he will, hitting .260-.270 with 25 home runs and playing above-average defense in center field.
Yet, how can they possibly know?
Cespedes is precisely the type of player you never would have found in Paul DePodesta's computer -- or Peter Brand's spreadsheets, for those who have seen "Moneyball." Then again, it's not as if he is a complete mystery. Sabermetricians at both the club level and in the media have attempted to translate his numbers from Cuba to the major-league game.
Dan Szymborski, editor-in-chief of Baseball Think Factory, contributor to ESPN.com and creator of the ZiPS projection system, forecast Cespedes' numbers through 2019 and came up with this line for his first season -- .270/.331/.435 with 23 homers and 86 RBI.
Matt Kemp, Jacoby Ellsbury, Melky Cabrera and Shane Victorino are the only regular center fielders who had better rate stats in 2011. Kemp, Ellsbury, Curtis Granderson and Andrew McCutchen are the only ones who had better home run and RBI totals.
The unknown, of course, is how quickly Cespedes will adjust to the North American game -- and whether he adjusts as successfully as the Athletics envision.
The A's can't wait on Cespedes, given the size of their investment and the ticking clock on his contract. But as one rival executive said, "What do you do if he's hitting .110 after 20 games?"
It's quite possible that will happen -- even scouts who like Cespedes believe that major-league breaking balls will give him fits and that he will compile big strikeout totals, at least initially.
If he struggles early, he could warrant a minor-league demotion. If he gets demoted, he could lose confidence. And if he loses confidence ... well, let's just say it's a slippery slope.
The Athletics have other outfielders coming -- Michael Choice, their No. 3 prospect according to Baseball America, and Grant Green, their No. 4. They've transformed a bottom 10 farm system into a top 10 with the signing of Cespedes and three offseason trades. They also hold three of the top 47 picks in the next amateur draft.
Even this season, the A's could be better than they were a year ago, not to mention younger and cheaper. Cespedes obviously isn't cheap, but his age and promise make him a logical fit for the team's latest rebuilding plan.
Still, not everyone in the industry is convinced -- particularly when the Athletics helped put themselves in this position with some of their previous drafts, trades and international signings.
"Hope this one works out better than their last record-breaking international sign," one rival executive cracked, referring to Dominican right-hander Michael Ynoa, who has pitched nine innings in three seasons due to injuries. Ynoa, then 16, signed for $4.25 million in 2008, the largest bonus ever at that time for a Latin amateur.
The way the Athletics see it, they had no choice -- there was simply no other way for them to acquire a player like Cespedes.
It's a gamble, a big one. The Athletics are building toward San Jose, and Cespedes might not make it to San Jose.
Four years from now, even if everything goes according to plan, it might be fair to ask, What was the point?