Celtics shock Cavaliers with last-second 3-pointer to steal Game 3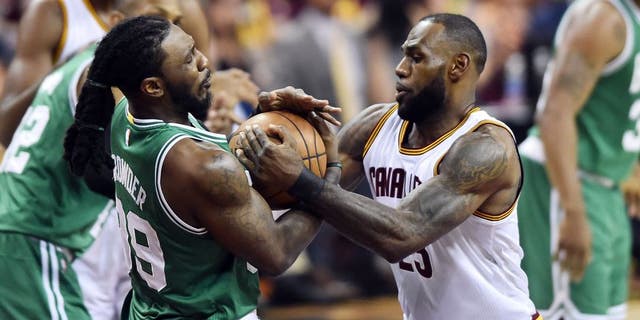 The Celtics on Sunday overcame a 21-point third-quarter deficit to come away with an improbable 111-108 victory in Cleveland Game 3 of the Eastern Conference Finals. Avery Bradley got an extremely favorable bounce on a three-point attempt at the buzzer, and that was ultimately the difference.
The Cavaliers were rolling in the first half, just as they had through the first two games of the series. Kevin Love had 22 points in the first 24 minutes behind 7-of-10 shooting from three-point distance, and Kyrie Irving had 17 points and six assists during that same span.
But things turned in the third quarter. Boston locked down defensively, the Cavs went away from the ball movement that got them that big lead in favor of isolation basketball, and LeBron James was unusually passive he finished with just 13 field goal attempts, his lowestin any playoff game this season by far, and had just 11 points and six turnovers in 45 minutes on the floor.
The Celtics, meanwhile, got a career night from Marcus Smart, who led the team with 27 points while knocking down seven of his 10 looks from three-point range. He shot just 28.3 percent from beyond the arc during the regular season.
Boston is without Isaiah Thomas for the remainder of the playoffs, and has no realistic shot to win three more times in the series. But they peeled back the Cavaliers' layer of invincibility, at least for one night, and now Cleveland will need to try to relocate the level of dominance that allowed itto go 10-0 to begin the postseason.