Celtics become second No. 1 seed ever to go down 2-0 against an 8 seed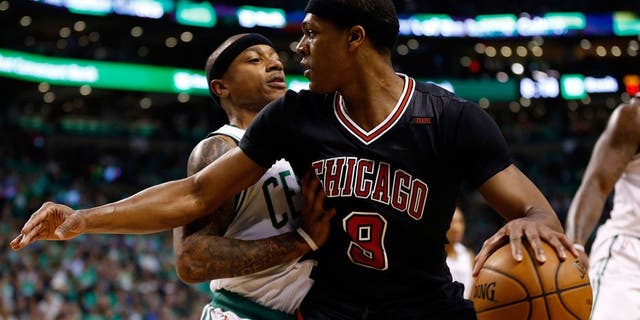 The Chicago Bulls were a mess most of the season, but when they capped an unlikely sweep of the Cleveland Cavaliers last month, suddenly their playoff hopes seemed very real. Of the three teams that were battling for the last two spots in the East, the Bulls had the easiest path to the playoffs.
They didn't look too convincing, though, losing to the Knicks and Nets and just squeaking in as the eighth seed, earning a date against the top-seeded Boston Celtics.
What a difference a week makes.
The Bulls beat the Celtics 111-97 on Tuesday to become just the second No. 8 seed to go up 2-0 on a No. 1 seed. The other: the 1993 Lakers against the Suns. The Bulls are the first to do it in a seven-game series.
The tragic death of Isaiah Thomas' younger sister in a car accident on the eve of the playoffs was expected to affect the Celtics star, but no one saw this coming.
Rondo looked at home in the Garden, getting 14 assists Tuesday night and finishing one rebound shy of a triple-double. Jimmy Butler is averaging 26 points in the series and Dwyane Wade dropped 22 in Game 2. Robin Lopez chipped in 18. Robin Lopez!
Naturally, hoops heads are beside themselves.
Greg M. Cooper-USA TODAY Sports | Greg M. Cooper