Celtics aim for epic upset against James, Cavs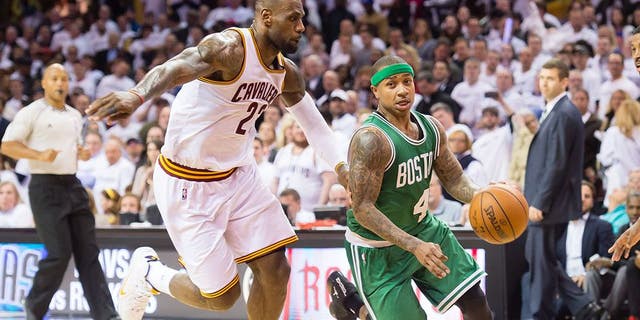 BOSTON -- It was five years ago that LeBron James walked into TD Garden and amassed 45 points and 15 rebounds in a Game 6 victory that avoided the Miami Heat's elimination from the postseason.
Many feel that was the first real signature event in what was already a proud career, as the Heat won Game 7 at home and then captured the championship.
"Now that you've brought it to my attention, yeah, I would say that," Cleveland Cavaliers coach Tyronn Lue, a Celtics assistant in that 2012 series, said Tuesday as his team prepared to go to Boston for Game 1 of the Eastern Conference final on Wednesday night.
"Coming back home, up 3-2 and having a chance to close them out. Played a great series and we thought we had a chance to win that series. LeBron came in and had 45 points, think he made six 3s and he was just determined that he wasn't going to let his team lose."
James, looking to be the first player since Boston's Bill Russell (in the 1960s) to go to seven straight finals, opens his sixth playoff series against the Celtics -- the most he has played against any team.
Boston advanced with a 115-105 Game 7 victory over the Washington Wizards on Monday night and then won the NBA draft lottery for the first time Tuesday.
"That felt pretty good," Celtics managing partner Wyc Grousbeck said. "It felt like winning Game 7 last night. There's a lot of good feelings around the Celtics right now.
The Celtics took advantage of the Cavs virtually taking the final month off to grab the top seed in the conference. But the Cavs, 8-0 in these playoffs (Boston is 8-5), are clearly the favorites as they hope to repeat as NBA champions.
Asked after Monday night's game what it will take for his team to beat Cleveland, Boston guard Marcus Smart said, "Perfection."
"What a special opportunity to get a chance to compete against them," said Boston coach Brad Stevens, whose Celtics lost to the Cavs in four straight games two years ago.
"At the end of the day, the Celtics are our next opponent and … they're a worthy opponent," James said Tuesday. "We have to game plan every game; we have to game plan for what they bring to the table. And when we have to mentally focus on our challenges that we have every game."
In 29 playoff games against the Celtics, James' teams are 17-12. He is averaging 29 points, 8.8 rebounds and 5.8 assists in those games. He also comes in with six straight 30-point games in this year's playoffs and is the first player ever to amass 275 points, 70 rebounds and 50 assists in the first eight playoff games of a season.
"LeBron's been playing at such a high level, why would you go away from that?" Lue said. "Let's ride it while he's been playing great. Kevin (Love) understands that, Kyrie (Irving) understands that, all the guys understand it. We'll do a better job getting Kevin involved, getting him more touches. But LeBron's playing at such a high level, it was hard to kind of go away from that. We're just all about winning and in order to win you've got to sacrifice."
James showed up at Tuesday's media gathering wearing a T-shirt that had a leprechaun with a halo over its head on it. That happens to be his high school mascot, but was it also a sign the Boston leprechaun will soon be a dead and thus an angel?
"You guys are trying to create story lines," James said. "The only story line is Celtics vs. Cavs and who can win this series."
In the fourth game of that previous series, Boston's Kelly Olynyk knocked Kevin Love out of the postseason by ripping his arm back and creating a shoulder injury. Olynyk then did what looked like the same thing to Robin Lopez -- and was then involved in an incident in the Wizards series.
After a questionable screen, he was shoved by Kelly Oubre Jr., leading to a one-game suspension for Oubre, but also leading to Draymond Green, who knows a thing or two about dirty plays, calling Olynyk "a dirty player."
Monday night, Olynyk, who denies playing dirty, was just a great player, scoring a career-playoff-high 26 points to help send the Wizards home.
"If Kelly doesn't go nuts and they throw in a couple more 3s, we're not talking about the next step," said Stevens.
The Cavaliers won the season series with the Celtics 3-1, winning both home games and splitting the games in Boston.
James averaged 29.3 points, 9.5 rebounds and 9.8 assists per game this season against Boston, while Celtics scoring leader Isaiah Thomas posted 29.5 points and 6.5 assists per game against the Cavs.
"They ain't (giving) us a chance in this series," Thomas said Monday. "They ain't (giving) us a chance when we was down 2-0 to Chicago. We got the No. 1 seed, they didn't give us a chance. They don't ever give us a chance and we keep going. We don't care about what others say."
Al Horford, brilliant in these playoffs, added, "Everyone's going to roll with the champs until somebody beats them."
Thomas, who has ridden a physically and emotional roller coaster in these playoffs, says he is banged up and there's no time to rest up for the powerful Cavaliers, who haven't played since May 7.
"I'm hurting but it's the playoffs, so there's no excuses," he said, adding it's "My whole body" that hurts.