CB injury more pain for Bad News Bills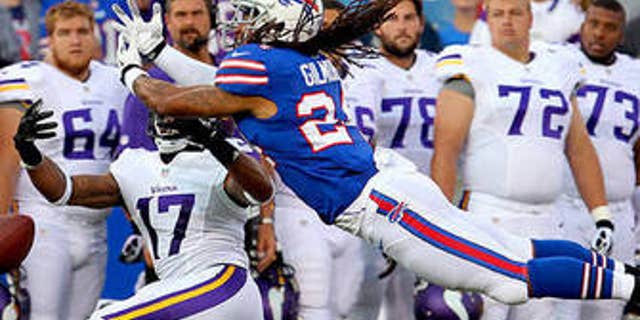 ORCHARD PARK, N.Y. – The Buffalo Bills aren't just preparing for their regular-season opener with a major question mark at quarterback because of injuries to E.J. Manuel and Kevin Kolb.
They also will be without someone whom head coach Doug Marrone believes may have enjoyed the best preseason of any player on the roster.
Overshadowed by Marrone's announcement Monday that undrafted rookie quarterback Jeff Tuel may start Sept. 8 against the Patriots was the impact made by the loss of cornerback Stephon Gilmore. As first reported by FOX Sports NFL Insider Mike Garafolo, Gilmore suffered a fractured wrist that required surgery Monday.
Marrone has said Gilmore is expected out for six to eight weeks -- but the coach told FOX Sports on Tuesday that Gilmore could return with a protective cast, which may potentially lessen the time he would miss.
"His mindset (is), he's looking forward to coming back as quick as he can and coming right back in there," Marrone said.
Until he does, the Bills must find a way to compensate for the loss of their best cornerback at a position where Buffalo lacks experience and proven talent beyond fellow starter Leodis McKelvin. Gilmore, the No. 10 overall pick in the 2012 NFL draft, was displaying all the earmarks of having a breakthrough second NFL season.
Marrone admitted that losing Gilmore was "a pretty big blow" for his defense.
"He's a heck of a player and really had an outstanding camp," said Marrone, who is in his first season as Buffalo's head coach. "If you look at all the players and how they performed, he's right up there. You can argue he's had the best camp. He's played extremely well.
"Really, it's a disappointment from the standpoint that he's worked so darned hard and wanted to be the best at his position like a lot of guys do. All of a sudden, they get an injury."
Manuel falls under the same umbrella. The 2013 first-round pick was on track to best veteran Kevin Kolb for the starting QB job before suffering a knee injury during Buffalo's second preseason game. Kolb then suffered a concussion during the third preseason contest that could be career-threatening because of his history of head injuries.
If nothing else, Marrone said Tuesday, Kolb's absence was "not a short-term situation."
Kolb remains in Buffalo receiving treatment and testing under the NFL's mandated concussion protocol.
As for Manuel, a timetable isn't certain for his return from arthroscopic knee surgery. Marrone said Manuel was approaching his rehabilitation at "100 percent," but that doesn't guarantee he will return to practice in time to sufficiently prepare for the Patriots in Week 1 of the regular season.
Manuel also could sit for Week 1 if the Bills don't want to put a player they believe is their future franchise quarterback in an untenable position against an opponent as strong as the Patriots.
That would leave Tuel as the de facto starter with the freshly signed Matt Leinart serving as his backup and Thaddeus Lewis, who was acquired in a Sunday trade with Detroit, as the third-stringer, provided the Bills carry three quarterbacks on their 53-man roster.
Under that scenario, Marrone told FOX Sports, the Bills probably would have to scale back their offensive game plan for the Patriots.
Marrone also didn't discount the possibility the Bills could seek another quarterbacking option if Kolb is out for a long period of time or Leinart and Lewis fail to impress.
"If we don't have that answer right now (at quarterback), we'll go out and look," Marrone said. "It's really every position. If we can upgrade ourselves somewhere along the line, you've got to make moves."
While the Bills are certain to enter the Patriots game as a heavy underdog, Marrone said his players "have been great" dealing with the adversity caused by the quarterback situation and Gilmore's absence.
"The one thing you don't want to make a mistake with when you talk to the team is, 'We had this happen here (and) this happen here. We need everyone else to pick it up a little bit,'" Marrone said.
"All of a sudden, you start losing focus on what your job is and try to do too much. We're going to have people step up. Just worry about what your role and job is."
As head coach, Marrone's job is finding answers until Manuel and Gilmore return.