Cavs still undefeated in playoffs heading into Game 2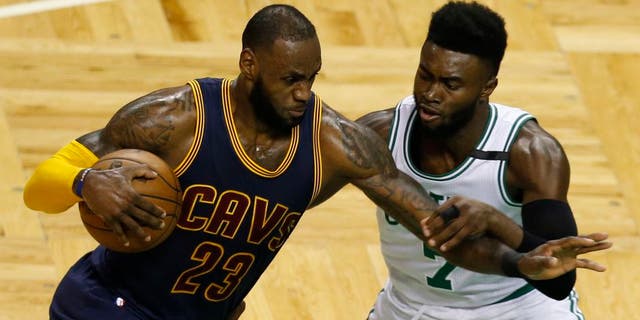 BOSTON -- LeBron James offered a rather ominous comment after his Cleveland Cavaliers won the opener of the Eastern Conference finals Wednesday night.
"I don't even think we played that great tonight," James said after the Cavs cruised to a 117-104 victory over the Boston Celtics.
Despite not playing "that great," the Cavaliers took over home-court advantage in the series and look to get a two games to none lead Friday night at TD Garden.
James was, well, James in Game 1. He continued his dynamic playoff run with 38 points, nine rebounds and seven assists in a wire-to-wire victory.
To make it tougher for Boston, James had help and the Cavaliers hit 28 of their first 45 shots and coasted, doing so in a game where Kyrie Irving, who usually kills the Celtics, scored just 11 points.
"They put you in a bad matchup almost every time down the floor," Celtics coach Brad Stevens said Thursday.
Kevin Love, looking like the Kevin Love from his Minnesota days, fired in a career-playoff-high 32 points, including four 3-pointers in the third quarter, and grabbed 12 rebounds. Tristan Thompson had a career-playoff-best 20 points and nine boards.
The win was the Cavs' 12th straight in the playoffs, dating back to the last three games of the finals last year. James has scored 30 points in seven straight games as he looks to visit the finals for the seventh straight season.
"There's gonna be some adjustments made from both sides," James said Thursday. "We have to be ready for it. Obviously, we don't know the exact adjustments but we know they're gonna make adjustments. That's what good teams do and we have to be ready for anything they bring to the table."
One thing the Celtics would love to bring to the table is more offense from Isaiah Thomas. Boston's little big man, who named All-NBA second team Thursday. (James made his 11th straight first team.) Thomas was hounded by the Cavs in the opening game, scoring just 17 points. He did have 10 assists and became the first Celtic since Rajon Rondo in 2012 with back-to-back playoff double-doubles.
"I'm very confident. I believe in these guys," Thomas said. "We just gotta protect our home court in Game 2 and get the win."
Games 3 and 4 are in Cleveland Sunday and Tuesday.
"LeBron's been playing so well that we really haven't had the chance to feature Kevin, but we've been talking and he's been ready," Cavs coach Tyronn Lue said. "Tonight was a huge performance from him. We needed that."
James is averaging 34.8 points, 9.0 rebounds and 7.1 assists per game in these playoffs.
"Amazing, but he's better than when I first got into the league," said Stevens, in his fourth year in the league and now 0-5 against James and the Cavs in the postseason.
The Celtics, who lost the first two games of their first-round series with the Chicago Bulls at home, had won five straight at home since then before losing the opener of this series.
"We got the shots we wanted on the offensive end almost all of the first half," Thomas said, noting the Cavs were rested while his team had just come off a seven-game series with the Washington Wizards. "We got what we wanted, we just couldn't capitalize on it. I think that was a big reason why our defense was let down as well.
"It's tough to continue to keep playing hard even though we need to when you don't see shots fall."