Cavs aim for comeback like last year's NBA Finals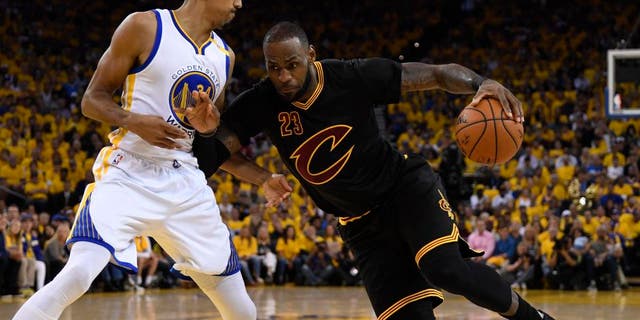 NEWYou can now listen to Fox News articles!
CLEVELAND -- The Cleveland Cavaliers find themselves in the same place through two games in the NBA Finals they were at this point last season.
Blown out in Games 1 and 2 by the Golden State Warriors, looking for something to change in the first home game before the series is over for all intents and purposes.
Things turned out OK for the Cavs in 2016. They won Game 3 by 30 points and eventually became the first team in NBA history to recover from a 3-1 deficit to win the Finals.
"You understand the journey and how much of the energy it took from a mental and physical standpoint in order to come back from something like that," said Cavaliers guard Kyrie Irving. "But you know it's definitely possible."
The Warriors have outscored Cleveland by 41 points through two games. They've blown the doors off of LeBron James and company in both games in the third quarters, outscoring the Cavs by 13 points in Game 1 and 11 on Sunday.
Kevin Durant wasn't wearing a Golden State jersey while his current teammates collapsed in last year's Finals. He has scored 71 points through two games. Harrison Barnes, the player Durant replaced in the Warriors' lineup, scored 65 for the whole series.
Durant is a former MVP in the prime of his career who was added to a roster that won an NBA-record 73 games last season before the stunning Finals defeat. He is partnered with Stephen Curry, a two-time MVP who has scored 70 points through two games and is coming off a triple-double in Game 2.
And the Warriors point to Game 3 as the initial turning point.
"I think it was the nature with which they won that game, the force that they brought," Warriors coach Steve Kerr said. "They blew us out. I don't remember what the final score was, but it wasn't close. And I thought that gave them confidence, gave their crowd confidence.
"We came back and won Game 4 in a great effort and had them right where we wanted them, but I think Game 3 gave them that confidence, and obviously everything changed in Game 5."
Cavs coach Tyronn Lue said he is sticking with shooting guard J.R. Smith in the starting lineup despite his struggles. Smith has scored just three points in two games on 1-of-6 shooting.
Then again, Smith was scuffling through the first two games of last season's Finals and came back with 20 points in Game 3.
"I have the same confidence level I've had since I started playing this game," Smith said. "I feel like I can make any and every shot. I feel like I'm going to -- feel like I'm going to play well every time I step on the floor. Obviously that doesn't happen every time.
"My confidence has never dwindled, lacked, chipped, nothing. I feel like when I'm on the floor, I mean obviously Bron is Bron, but I feel like I'm one of the best players on the floor."
James is averaging a triple-double through two games, with 28.5 points, 13 rebounds, and 11 assists. Twice during his career he has led the Cavs back from an 0-2 deficit in a playoff series -- in the 2007 Eastern finals against Detroit and of course last season.
James, who actually ended his protest of NBA podium interviews after Tuesday's practice by again taking reporters' questions on stage, said losses take "a mental toll."
"It's something I am accustomed to," James said. "It's something that I feel like is -- that it's OK for me to kind of always go back and know that I can refocus. I can get my guys ready, get myself ready. But you hate to continue to put yourself in these positions."
The Warriors are 14-0 to start the postseason. They're the first NBA team to ever do it. With a win in Game 3 they would pass the 1992-93 Pittsburgh Penguins for the most consecutive playoff wins by any major professional sports team.
For what it's worth, no team has ever recovered from a 3-0 deficit in the NBA playoffs. The Warriors are two wins from sweeping all four rounds, including the last one, against the defending champs.
"We want 15-0," Kerr said. "That's what we want. Are we 14-0 right now? We want 15-0. That's what we want. We literally have never once mentioned 16-0. To me it's a miracle that it's even a possibility. It's so hard to do.
"But we are here, we're more focused on what happened last year like in terms of we were up 2-0 and we came here and the series shifted. That's the important lesson, not any historical benchmarks or anything like that."