Cavaliers part ways with general manager David Griffin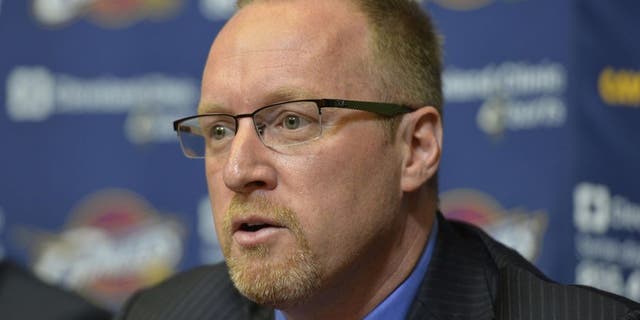 NEWYou can now listen to Fox News articles!
The Cleveland Cavaliers have a lot of key decisions to make this offseason, and it appears one of them will be landing a new general manager. The Cavs have decided to part ways with David Griffin, who served as the teams GM for three years.
Cavaliers owner Dan Gilbert thanked Griffin for his time with the team and said the organization will continue to "aggressively explore and pursue opportunities to improve our team in the weeks ahead".
A source told The Vertical that Griffin, whose contract was set to expire at the end of the month, and the club just could agree on the future of the organization. When asked by an ESPN reporter about Griffin's departure, an unnamed Cavs player said "Griff is leaving?"
The timing couldnt be worse for the Cavs, who reportedly are interested in acquiring either Paul George from the Pacers or Jimmy Butler from the Bulls in potential trades. Griffin was working on a deal to land Butler as late as Monday night before the decision was made, according to TNT.
The club is also facing the possibility of losing LeBron James next offseason if he decides to sign elsewhere as a free agent. James told ESPN in April that he back Griffin and thought he deserved an extension.
"It makes no sense why he shouldn't get an extension," James said. "He's pulled every move -- he's tried to make every move happen -- to better this team to be able to compete for a championship. So we wouldn't be in this position, obviously, without him and without the guys that are here -- from the coaching staff to the players to Griff. He's been a big piece of it."
The Cavs have reached the Finals in the three consecutive years since James returned to Cleveland before the 2014-15 season. The team is looking to reshape the roster after losing in five games to the Warriors in the Finals, potentially offering Kevin Love as a bargaining chip in the hopes of landing a two-way perimeter player.