Cavaliers hold on for tense 109-108 Game 1 win over Pacers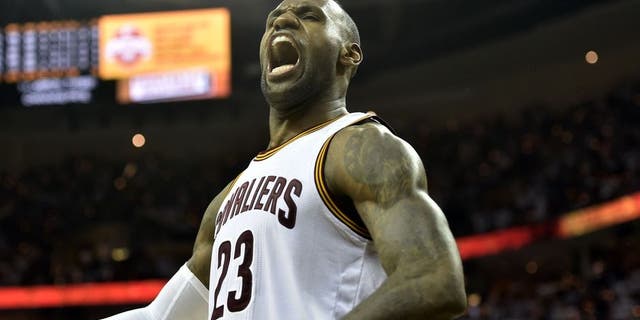 CLEVELAND (AP) -- Their regular-season issues followed the Cavaliers into the playoffs. They didn't win their postseason opener as much as survive it.
The champions remain puzzling.
LeBron James scored 32 points and Cleveland, looking to flip a switch after a shaky-and-streaky regular season, began the postseason by escaping with a 109-108 victory over the Indiana Pacers on Saturday.
C.J. Miles could have won it for Indiana, but a player whom Cleveland's players and coaches call a "Cavs killer," missed a 14-foot jumper just before the horn.
Following the game, Miles sat silently at his locker in full uniform for 30 minutes before Larry Bird, the team's president of basketball operations, came in and patted him on the shoulder.
James refused to acknowledge how different things would be if Miles' shot had dropped.
"He missed," James said. "We won."
Playing in his 200th playoff game, James added 13 assists and six rebounds while winning his 18th consecutive first-round game.
However, it was anything but easy as the Cavs, who had a 10-point lead in the fourth quarter, had to withstand a strong comeback by the Pacers.
After a foul, Indiana inbounded with 10 seconds left and tried to run a play for star Paul George. But James came over to help J.R. Smith and double-teamed George, who was forced to pass to Miles. His jumper was on line, but short and the Cavs avoided a disastrous loss.
George was adamant that he should have gotten the ball back.
"I talked to C.J. about it," George said. "In situations like that, I gotta get the last shot. C.J. took it upon himself. I'm confident with all of my guys taking shots. That's not the issue. In that situation, I need the ball."
Miles didn't make any excuses.
"Obviously, we wanted to get the ball to Paul to be able to get the shot to win the game," he said. "I got the ball at four (seconds), so I had to take it myself. I got a good shot. I just didn't make it."
James said the Cavs' plan on the final play was not to let George beat them.
"We wanted to get the ball out of his hands, make somebody else try to beat us and live with the results," he said.
Kyrie Irving added 23 points and Kevin Love had 17 for Cleveland, which has won 12 straight playoff games at home.
George scored 29 points and Lance Stephenson had 16 for the seventh-seeded Pacers, who will try to even the series on Monday night.
Cleveland had several bad offensive possessions down the stretch and the Cavs went only 14 of 27 from the free-throw line.
After dropping their last four and going 10-14 since March 1, the Cavs entered the postseason appearing very vulnerable. It's too soon to say whether they have their act together, but for three quarters they looked more like a team capable of reaching its third straight Finals.
Irving dismissed the idea that Cavs feel vulnerable.
"Hell, no," he snapped. "Not going into the game with the group that we have."
Indiana played a solid all-around game, matching the Cavs at both ends and even out-rebounding them.
But, as usual, the Pacers couldn't contain James, who improved to 45-7 in the opening round and got the Cavs their first win -- warts and all.
"I'm happy we go the victory," he said. "I'm happy how emotional we was. I'm happy with the energy and the effort. They made some big shots and some big plays, so I'm excited about that."
RIGHT DECISION
James has been on the receiving end of criticism for not taking the final shot, and was not about to criticize George for passing to Miles.
"If you're the best player on the floor, that doesn't mean you have to take the shot," James said. "I think he made the right play and you live with the results."
SUPER SUB
Stephenson was huge off the bench, providing points and attitude.
He rejoined the Pacers on March 30 and was pivotal in them going 5-1 to make the playoffs.
"I just try to be a guy who makes smart decisions in attack mode, and take some of the pressure off Paul," said Stephenson, who previously played with Indiana from 2010-2014. "I think I did that today."
McMillan said he has no immediate plans to move Stephenson into the starting lineup.
TIP-INS
Pacers: Indiana was knocked out in the first round by Toronto last season. … This is G Jeff Teague's third straight postseason facing the Cavs. He was previously with Atlanta, which was swept by Cleveland in 2015 and 2016. … Indiana has been in playoff mode for weeks and George carried the Pacers down the stretch go to get them into the postseason by averaging 32.8 points, 8.2 rebounds and 4.5 assists during a 5-1 April.
Cavaliers: James (5,604) needs 37 points to pass Kobe Bryant (5,640) for third place in playoff points. Kareem Abdul-Jabbar (5,762) is second and Michael Jordan (5,987) is first. … James has scored more than 30 in 85 postseason games. … Still just 25, Irving is now third in team playoff scoring. …
UP NEXT
Game 2 is Monday night at Quicken Loans Arena.