Cavaliers follow a tough Christmas Day game with a blowout loss to the Trail Blazers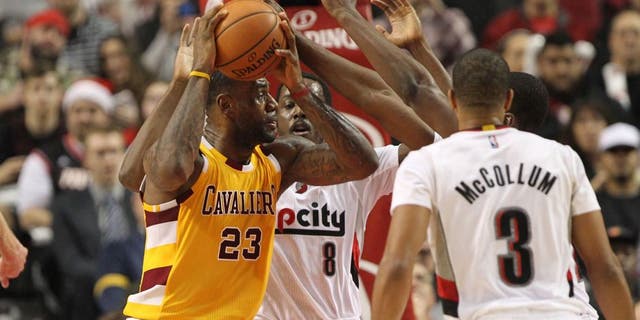 NEWYou can now listen to Fox News articles!
Were the Cleveland Cavaliers worn out from their much-hyped, hard-fought game against the Golden State Warriors on Christmas Day? Consider what happened in the Cavs' 105-76 loss in Portland to the Trail Blazers on Saturday night:
*LeBron James scored just 12 points (matching his season-low) and sat out the whole fourth quarter.
*The Cavs didn't even hit 60 points until the fourth period.
*Portland led after one period 34-12. The 12 represented a season-worst quarter for Cleveland.
*This came against a Blazers team that, with the victory, is still eight games under .500. They had lost five in a row before Saturday.
Writing at Cleveland.com, Chris Haynes described it this way: "The Eastern Conference champion Cleveland Cavaliers were scheduled to take on the rebuilding Trail Blazers, but were nowhere to be found. So, the game went on as planned and the Trail Blazers played the equivalent of a 5-on-0 scrimmage."
Though acknowledging that the Cavs' 89-83 loss on Friday took a lot out of them, James said: "You can't use that as an excuse. This Portland team beat us pretty good and you have to respect them for that."
The Associated Press contributed to this article.