Cat Zingano promises UFC return by start of summer: 'It's going to be epic'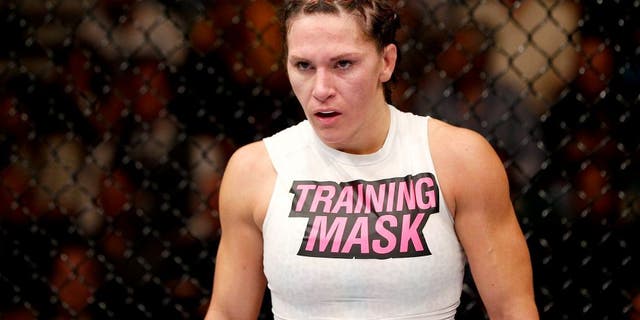 Bantamweight contender Cat Zingano has not fought in over a year since losing a title fight to then-champion Ronda Rousey, in Feb. 2015. She's been far from inactive in that time, however.
"Alpha Cat" recently told Inside MMA's Ron Kruck that she used her time out of competition to heal, physically, as well as decompress, mentally, and travel the world to train and improve her skills. Now, she's on the verge of a return to the UFC Octagon, though she can't yet discuss her opponent.
"I had some pretty bad bumps and bruises that I needed to take care of," she explained.
"On the personal note, I'm doing all this for me and my son so that gives me a little bit more responsibility than any of these people have to deal with. I worked a lot on the mental aspect of it. I took a trip to Thailand. I visited a bunch of different gyms that are places where I always wanted to train, and get technique and education from people who I really look up to. I feel like I've improved 110 percent, and I'm ready to go out there and showcase it."
Her tough loss to Rousey followed an extended period of time out of action with a torn ACL, and then the suicide of her husband Mauricio Zingano. Cat was asked if she could empathize with Rousey saying that she considered suicide after her KO loss to Holly Holm last November.
"Yeah, I can empathize with it. Clearly, both of us have been touched by the topic of suicide - her father in her case and my husband, in mine," she began.
"That being said, I also have a son whose father has also been touched by suicide, and it was a very serious thing. Whatever her reasons and whatever thoughts she had are very unique to her experience.
"Nothing can stay great forever, and nothing can stay horrible forever. Life is constantly changing.Those moments that we're losing, those moments that we're down, those are all going to change into something that, ultimately, makes us stronger."
Zingano seems confident that she is indeed now stronger and better than ever, right in time for an early summer return bout. Though she would love to face champion Miesha Tate, again (Cat owns a 2013 TKO victory over the new title-holder), Zingano says that the UFC has set up a "tune-up" fight for her that should still excite fans.
"Being that I've had a year-off, they really want me to come back and have a tune-up fight. The fight that I want the most, clearly, is Miesha. Seeing her win that fight (against Holly Holm, earlier this month), and in the fashion that she won that fight, it definitely put a fire in my spirit to want to get back out there and fight her," she revealed.
"When I blew my knee, I had just beaten Miesha and, Miesha off a loss to me was still handed my title shot. So, I don't really think the logistics of coming off a loss, especially in this case, should really be that stood by.
"But, the UFC is going to do what they're going to do. Obviously, that's the fight I want, but I'm not looking past this opponent. This is a very, very valid opponent, and it's going to be an exciting fight, and I'm super stoked for what you guys are going to see because I know when you hear it you're going to be [excited]."
Though the 33 year-old remained tight-lipped about the details of her next fight, she did tease some info about it for us to think about. "I can't say anything, yet. I can't be the one to break the news. The UFC has to be the one to break it. I'll just tell you that it's going to be epic," she said, with a smile.
"You're gonna love it and it's going to be the beginning of the summer. My birthday is July 1, I'll just let you know that it will either be an early birthday or a late birthday present."