Cashman clearly has plenty left in his bag of tricks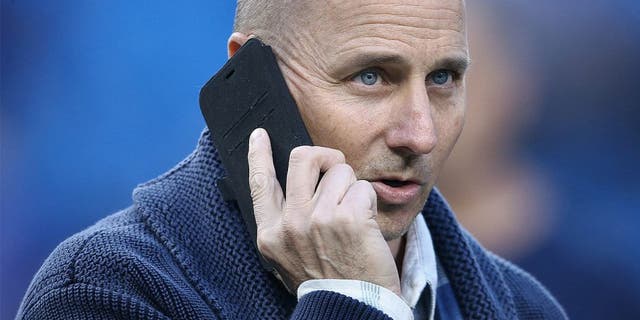 It's a neat trick that Yankees general manager Brian Cashman is pulling off -- getting younger without giving up top prospects, building a potential contender without entering the pricey free-agent market.
If at the start of the offseason, one had said that the Yankees would acquire second baseman Starlin Castro, 25, and closer Aroldis Chapman, 27, while keeping their best young talent, the industry would have considered it a coup. Chances are, the trades still will turn out favorably, no matter how long a suspension Chapman receives, if any, for his role in an alleged domestic-violence incident.
If Chapman's penalty is relatively short -- say, 25 games -- then he will be available to the Yankees for most of 2016. If his penalty is longer, he might not accrue enough time to become a free agent at the end of the season, and the Yankees also will control him for '17. The cutoff point is believed to be 46 games.
Cashman acknowledged that "serious issues" are in play with Chapman after acquiring him on Monday, and that the potential public-relations fallout is a "concern." But strictly from a baseball perspective, the acquisition cost for Chapman was so modest that it would have been unimaginable before news broke of his domestic-violence incident, and even more unimaginable at the July 31 non-waiver deadline, which is when the Reds should have traded him.
Oh, the Yankees hated losing right-hander Rookie Davis, whom some scouts view as a potential a No. 3 starter. Former first-round pick Eric Jagielo, though, had no chance of passing first-base prospect Greg Bird, particularly when he has struggled to stay healthy. The other two players whom the Yankees sent to the Reds -- second baseman Tony Renda and right-hander Caleb Cotham -- were described as organizational filler.
The Yankees still have Bird, still have right-handers Luis Severino and James Kaprielian, still have outfielder Aaron Judge, shortstop Jorge Mateo and catcher Gary Sanchez. Yes, most of their regular position players are in decline, and their rotation features one question after another. But the addition of Chapman should help ease the pressure on the starters -- presuming that he is available for most of the season, and that the Yankees keep the tantalizing trio of Dellin Betances, Andrew Miller and Chapman intact.
Cashman said it was the team's "full intent" to open the season with all three relievers, but acknowledged that he expects to receive a "lot of interesting calls" about potential trades, with most surely centered around Miller. The Yankees have made it clear since the start of the offseason that they will trade Miller for the right return, most likely a young starting pitcher. Maybe teams will get more creative with their offers now. Maybe not.
The good news for the Yankees is that they can anoint Chapman their closer without fear of upsetting Miller -- a much different scenario than the Dodgers faced when they were trying to acquire Chapman to go with Kenley Jansen. The deal would have left the Dodgers with two closers on track to become free agents at the end of the season. And Jansen, according to major-league sources, was not happy about the prospect of losing the closer's role.
Miller, under contract for three more years, need not worry about financial consequences. In fact, the Yankees never promised him that he would close in the first place, though he earned 36 saves last season after signing with them as a free agent.
Cashman said he spoke with Miller after the trade, and that the reliever told him that he will do whatever it takes to win. Miller then went public with his team-first sentiments, tweeting, "Time to get #28. Welcome to the Bronx @AChapman_105. #iwantaparade."
The depth of the Yankees' bullpen remains questionable, particularly after the trades of right-handed swingman Adam Warren (for Castro) and left-hander Justin Wilson (for minor leaguers). But the back end, my goodness. Chapman, Miller and Betances last season ranked 1-2-3 among relievers in strikeout rate, minimum 150 batters faced.
Think about manager Joe Girardi's options now. He can go with a traditional, push-button bullpen -- Betances in the seventh, Miller in the eighth, Chapman in the ninth. Or, he can employ less predictable, more flexible thinking, playing matchups -- Betances is the only right-hander in the trio -- and/or using one or more of his late-inning weapons for more than three outs. Why not, when at least one figures to be in reserve for the next game?
Cashman, in manipulating his roster, also can go in any number of directions -- again, depending upon the nature of Chapman's discipline. The GM can trade Chapman or Miller if the Yankees' rotation crumbles and the team falls out of contention by the deadline. He can trade one of them next offseason if Chapman fails to qualify for free agency due to the length of his suspension -- or make Chapman a qualifying offer to ensure draft-pick compensation if he indeed becomes eligible to depart.
The Yankees figure to pay Chapman about $13 million in arbitration this season. They owe Castro a minimum of $38 million over the next four seasons. Bargain contracts, by today's standards. Bargain trades, considering what the Yankees gave up.
This isn't necessarily a playoff team, but the Yankees' 2016 season is partly about buying time until the contracts of first baseman Mark Teixieira and outfielder Carlos Beltran expire, just as the 2017 season will be partly about buying time while left-hander CC Sabathia and third baseman Alex Rodriguez play out their deals.
In the meantime, Cashman is threading the needle -- protecting his assets, getting younger and steering clear of new long-term obligations, apparently at ownership's request.
It's a neat trick he's pulling off. And he might not be done yet.