Carter skates with Flyers, is game-time decision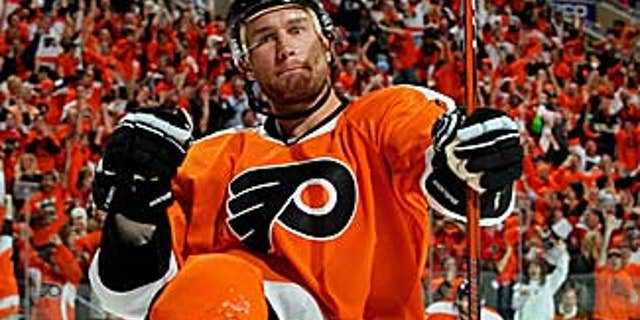 BOSTON -- The Philadelphia Flyers are treating the third game of their best-of-7 series Wednesday (7 p.m. ET, VERSUS, CBC) against the Boston Bruins as if it were the seventh and deciding contest.
At this point, they really have no choice. To a man, players on the team know darn well history will be awfully tough to repeat.
The importance of the contest is obvious as the Flyers do not want to go down 3-0 to the Bruins, as they did one year ago before eventually clawing their way back to win the series.
So for this one, it's basically all hands on deck, as evidenced by the fact forward Jeff Carter, who hasn't played since Game 4 of the first round against Buffalo, skated for 20 minutes with the team here Wednesday morning at TD Garden.
Carter spoke to the media following practice, but didn't tip his hand on whether he would be in the lineup. Jody Shelley remained on the ice long after Carter had entered the locker room, which could be a sign Shelley won't be in the lineup.
"I feel all right," Carter said. "I'm not worried about (how many minutes I can play). I'm worried about getting myself healthy and getting back. When I'm healthy, I'll worry about the other stuff. I don't talk about injuries … that's what our general manager (Paul Holmgren) does."
Holmgren said Carter would be a game-time decision.
"Of course I want to be in the lineup; I want to be in every game," Carter said.
Carter suffered his injury April 20 in Buffalo after colliding with Sabres defenseman Tyler Myers. The Flyers have listed Carter as day-to-day with a lower-body injury, but CSNPhilly.com has reported the injury as a sprained ligament in his right knee.
"I think he brings a lot to our team," Flyers forward Claude Giroux said of Carter. "He's an offensive player, shoots the puck really well and he's defensively pretty responsible, so having a guy like that in the lineup would add some help."
The addition of Carter certainly would help bolster an already formidable Flyers attack.
"He is an unbelievable player so that would be another weapon in their arsenal," Bruins forward Brad Marchand said. "There's so much talent over there, it's almost unfair to all the other teams in the League. With Carter, he's so big and fast and good around the net. He's definitely a dangerous threat and it would be tough if he's in the lineup."
While Bruins fourth-line forward Shawn Thornton agreed, he also knows his team can't worry about what the Flyers will be doing.
"He's an unbelievable hockey player, obviously, and I'm sure they'd be happy to have him back whenever they can have him back, but I don't know if he's going," Thornton said. "We have to focus on what we're doing in here and not on what is going on over there."
"He's definitely one of the top players on that team and if he's back, I don't think we change much," Bruins forward Michael Ryder said. "We have to play just as hard and watch out when he is on the ice."
Meanwhile, defenseman Chris Pronger, who missed Game 2 with an undisclosed injury, didn't participate in Wednesday's practice and wasn't available for comment. Holmgren lists Pronger as day-to-day with a lower-body injury. CSNPhilly.com, however, reported that Pronger, who also was sidelined the final five minutes of Game 1, was suffering from back and hamstring issues and a head cold.
Whether or not Carter is in the lineup, the Flyers will be in desperation mode for Game 3.
"I think we have to be," Giroux said. "We came back from 0-3 last year, but I don't think guys want to do that again. That was pretty stressful, and if we get this win, we're back in the series and right back in the mix."
The Flyers were 25-11-5 on the road in the regular season and 2-1 against Buffalo in the opening round in the playoffs. The pressure competing on the road hasn't seemed to faze this group.
"I think the fact we always role four lines and go six defensemen deep is a big part of that," Flyers captain Mike Richards said. "Every team has to see what you're doing and work off of you. I thought we played well in Game 2 (a 3-2 overtime loss). We played physical and that helped turn a lot of pucks over."
Follow Mike Morreale on Twitter at: @mike_morreale