Carter back in lineup for Flyers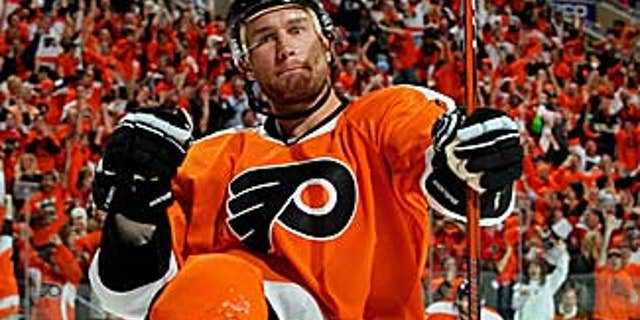 BOSTON -- Center Jeff Carter, who hasn't played since Game 4 of the first round against Buffalo, will be in the lineup on Wednesday when the Philadelphia Flyers meet the Boston Bruins in Game 3 of their Eastern Conference semifinal round series at TD Garden (7 p.m. ET, Versus, CBC).
The Flyers will be without the services of defenseman Chris Pronger for a second straight game. Danny Syvret will take his place in the lineup.
Carter was injured April 20 in Buffalo when he collided with Sabres defenseman Tyler Myers. Flyers General Manager Paul Holmgren listed Carter as a game-time decision. According to CSNPhilly.com, the 26-year-old forward had been nursing a sprained ligament in his right knee.
It is still uncertain what role Carter will play in his first game back in 14 days. He could be used exclusively on the power play -- the Flyers rank 11th in the playoffs (7-for-44) with 15.9 percent efficiency.
"I think he brings a lot to our team," Flyers forward Claude Giroux said. "He's an offensive player, shoots the puck really well and he's defensively pretty responsible, so having a guy like that in the lineup would add some help."
Carter finished first on the team in goals (36), game-winning goals (7), was tied for the team lead with 8 power-play goals and took a team-leading 335 shots on goal in 80 regular-season games. In four playoff games, he had 1 goal, 2 points and a plus-1 rating.
Carter spoke to the media following practice, but didn't tip his hand on whether he would be in the lineup. Jody Shelley remained on the ice long after Carter had entered the locker room -- a sign Shelley wouldn't be in the lineup – and he wasn't.
"I feel all right," Carter said. "I'm not worried about (how many minutes I can play). I'm worried about getting myself healthy and getting back. When I'm healthy, I'll worry about the other stuff."