Carrie Underwood performed the national anthem prior to Predators playoff game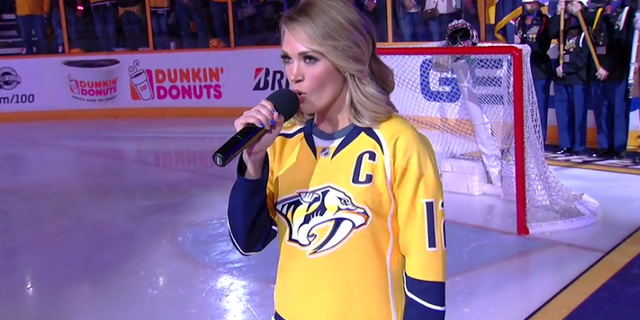 NEWYou can now listen to Fox News articles!
The Chicago Blackhawks have one of the best anthem singers in hockey withJim Cornelian behind the mic, so the pressure was on for the Predators to counter with a strong anthem of their own prior to Game 3 in Nashville.
Luckily, Music City's hockey team has quite aheavy-hitter firmly in their corner.
The Preds called on country music star Carrie Underwood, who is married to teamcaptain Mike Fisher, to perform the anthem before their first home playoff game on Monday night.Wearing her husband's jersey, Underwood belted the Star Spangled Banner and, unsurprisingly, got a huge ovation from an excited crowd in Nashville.
Chicago headed into Nashville already down two games to nothing and having yet to score a goal in the series, sohaving a Grammy-award winning artist take the mic in your opponent's building is just a little salt in the wound. That being said, Chicago's anthem still reigns supreme across the NHL.